Platform reduces solar O&M costs, improves long-term energy plant profitability and enhances grid security
SAN RAFAEL, Calif.--(BUSINESS WIRE)--SunLink Corporation's next-generation, secure total project SCADA (Supervisory Control and Data Acquisition) and solar performance monitoring platform VERTEX is now available for download in the Apple Store. A demo video of the new app can be viewed here: http://bit.ly/1NlCj0R.

Using the apps customer portal, VERTEX subscribers gain protected access for their project stakeholders to both real-time data for their Control Centers and mobile device-based controls to optimize project-by-project and total portfolio performance.
"Mobile project controls have the power to revolutionize O&M and the energy industry but only when protected by the highest levels of cybersecurity," explains SunLink CEO Michael Maulick. "The energy industry is focused on securing grid assets ranging from power plants and substations to smart-metered customers and, as proven in the Ukraine and Rye, N.Y., SCADA systems are particularly vulnerable. As a tech industry veteran, I recognized the significant opportunity energy has to build upon the advances so far achieved in cybersecurity and how to best enable progress via open source. Solar is the optimal energy player to steer the introduction of cybersecurity technologies - especially those that can coexist with legacy systems - because solar is leading the addition of new assets to the grid. By solving the problem here, we fast-track a ubiquitous, next-generation solar scalability platform."
SunLinks multi-factor cybersecurity protocols include biometrics and tokenization, among other measures.
"For too long the solar industry has maintained that little can be done to rein in O&M costs. Weve proven that stance wrong with VERTEX," adds SunLink VP of Products Kate Trono. "The ability to monitor and control projects remotely changes long-term project economics because its much less expensive to swipe your phone than roll a truck, and its even more financially beneficial to leverage real-time data collected via Internet of Things technology to target and optimize troubleshooting. Whether monitoring one project or 1,000, owners and O&M providers can be immediately alerted as to what needs their attention and how important the issue is to their energy production. Advances in artificial intelligence and big data will allow us to enhance this platforms capabilities even further. "
Via the apps public channel, users can get a glimpse into VERTEXs real time monitoring capabilities by browsing energy generation and project performance data for energy projects that have chosen to share their project data openly. Arizona State University is the first to make its energy data public via VERTEX in connection with a group of tracker and rooftop projects being managed by SunLinks PowerCare O&M team. Though the option to keep data completely private exists, SunLink applauds those who have decided to share their energy data openly for the benefit of energy progress.
SunLinks goal is for VERTEX is to jump start of an era of rapid EnTech convergence - where the brightest minds from tech and energy collaborate for the betterment of each industry.
"Data openness and an open platform are at the core of the VERTEX solution," emphasizes Trono. "The tech sector has proven that exposing interfaces to the creativity of others via open platforms is the most effective path to accelerate industry growth, product capabilities and product acceptance. We hope that tech innovators who are interested in advancing global solar adoption will find VERETXs RESTful API a powerful springboard upon which they can develop a new breed of energy solutions."
For more information about SunLinks VERTEX technology and commitment to EnTech convergence, watch the YouTube video series at http://bit.ly/20vaBAU, the SunLink VERTEX Webinar and visit the SunLink blog at sunlink.com/linkup.
About SunLink
SunLink Corporation brings powerful solar energy solutions to market through innovative, highly engineered products, in-demand customer services and best-of-breed software that make solar PV electricity easier, safer, more reliable and less expensive to install. In addition to bringing to market well-designed products that are agile in their implementation, the company leverages unparalleled R&D, a legacy of more than a GW of successful projects, state-of-the-art engineering and creative problem solving to develop optimized, full-scope product+service+software solutions for roof and ground-mount solar projects of every size and complexity. It is this unique combination of trusted insights, products, services and EnTech convergence that helps solar developers and installers overcome obstacles and furthers the industrys shared mission of advancing universal solar power adoption. For more information, visit www.sunlink.com or follow twitter.com/sunlink.
Featured Product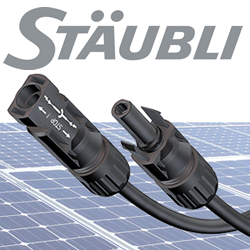 ​Stäubli Electrical Connectors are used on more than 300 GW, over 50% of the PV capacity worldwide. The MC4 family of UL and TUV listed products include connectors, in-line fuses, branch connectors, cable assembly and more.