At the June 2016 Intersolar Europe trade fair in Munich, T.Werk GmbH will be presenting its new TRITON mounting system. It features the use of bolts instead of screws, thus enabling a simpler and quicker installation.
"With the reorientation of production, we have also succeeded in reducing costs", reports Markus Ziegler, managing director of T.Werk GmbH. As a result the company can offer its customers a significant price cut.

Special Intersolar Europe discount
The TRITON system is being launched with a special 6% fair discount. The east-west version is - depending on project size, structural limitations and wattage of the module - available from 52 €/kWp (plus VAT). The minimum price for the south design with a 10° angle of tilt is 88 €/kWp. T.Werk is also offering a fair discount at Intersolar Europe for the already well-known CHRONOS trapezoidal sheets. The special prices start in May at 18 €/kWp.
Metallurgically shielded cable routing
TRITON is entering the market in three versions: for south exposure of the modules with 10° and 15° angles of tilt and for east-west exposure with 12° angle of tilt. T.Werk offers an optional module cable duct for all three versions which enables full metallurgically shielded cable routing. Every base rail and every module cable duct under the module can be used for cable routing. This is why no additional material is needed right up to the end of the module field. The cable routing is perfectly easy to realise and can be adapted to fulfil all requirements without further ado.
Steel profiles with strong zinc coating
T.Werk uses galvanised steel (Z600) so that the profiles stand up to all loads. The alloy is highly suitable for cold forming which makes the installation profiles also deployable in regions with aggressive atmospheres, such as near the coast or where there is a high level of ammonia concentration in agricultural areas. T.Werk grants a 12-year guarantee.
T.Werk GmbH will be exhibiting TRITON in association with the already well-known products CHRONOS trapezoidal sheeting, CHRONOS Click System and the SILENOS outdoor installation system at Intersolar Munich 2016 in Hall B2 Stand 580.
About T.Werk GmbH
T.Werk GmbH was founded in 2012. The company manufactures and sells elevation systems for steep and flat roofs, open space systems and individual customer-specific systems. T.Werk also provides comprehensive services, including structural calculations, on-site inspections, training for assembly technicians, and site management.
Featured Product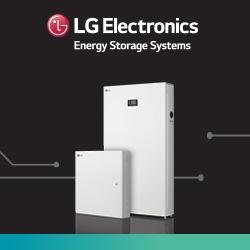 LG Solar is transforming today's solar landscape, offering precision-manufactured and high-efficiency solar panels for homeowners who demand high performance, reliability and consistently strong energy yield from a brand they can trust. LG modules feature outstanding durability, appealing aesthetics and high-efficiency technology, backed by a limited 25-year product, performance and labor (up to $450) warranty. Homeowners who purchase LG Solar modules know they're protected by a diversified global brand.