The Northern Power ESS (Energy Storage Solution) features the advanced FP2000 FlexPhase power conversion system that has been featured in multiple technologies and applications.
BARRE, Vt., April 25, 2016 /PRNewswire/ -- Northern Power Systems Corp. (TSX: NPS), a next generation renewable energy technology company, today announced the release of a new product that enables developers and end-users to acquire a fully integrated energy storage system tailored to their needs in terms of power and energy.

The Northern Power ESS (Energy Storage Solution) features the advanced FP2000 FlexPhase power conversion system that has been featured in multiple technologies and applications. The system has a wide range of DC voltage optimization, able to be effective with Flow, Lithium, Lead Acid or any other chemical battery, as well as mechanical storage options such as flywheels. Northern Power leverages its abilities and experience in grid integration and renewable optimization in order to deliver the best solution for the customer's needs.
Diego M. Tebaldi, VP of Global Business Development for Northern Power Systems, commented "This is a great step forward—responding to market demand where customers are requiring a fully integrated solution." He continued, "We are proud to partner with key providers across the spectrum of the main components, using our multi-year experience to select components that provide the better technical solution for the application required, and offer the market an easier to deploy standard and pre-configured solution."
Northern Power Systems offers integrated Energy Storage Solutions (ESS) configurable for a range of applications. NPS ESS can be packaged into containers, shelters, trailers, or buildings with an output power range of 125 kVA - 2,000 kVA. The duration of rated power can be configured from 15 minutes to 4 hours.
Key Applications of this solution include:
Utility Grid Support - frequency regulation, VAR support/power quality, peak shaving/load shifting, sub-station resiliency, renewable integration
Behind-the-Meter - demand management, time-of-use, back-up power, critical load support
Hybrid Microgrids - remote/islanded operation, black start, renewables utilization/reduced fuel consumption
Northern Power is featuring this announcement at the Energy Storage Association industry conference in Charlotte, NC from 25th April 2016 - 27th April 2016 and will have a presence in booth #327.
For more information please reach out to Info@NorthernPower.com
About Northern Power Systems
Northern Power Systems designs, manufactures, and sells wind turbines and power technology products, and provides engineering development services and technology licenses for energy applications, into the global marketplace from its US headquarters and European offices.
Northern Power Systems has almost 40 years' experience in technologies and products generating renewable energy.
Northern Power Systems currently manufactures the NPS™ 60 and NPS™ 100 turbines. With over 10.2 million run time hours across its global fleet, Northern Power wind turbines provide customers with clean, cost effective, reliable renewable energy.
Patented next generation permanent magnet direct drive (PMDD) technology uses fewer moving parts, delivers higher energy capture, and provides increased reliability due to reduced maintenance and downtime.
Northern Power Systems' FlexPhase™ power converter platform uses patented converter architecture and advanced controls technology for advanced grid support and generation applications.
Northern Power Systems offers comprehensive in-house development services, including systems level engineering, advanced drivetrains, power electronics, PM machine design, and remote monitoring systems to the energy industry.
Some of the world's largest manufacturers license the company's next generation technology and IP for their utility and distributed wind products and markets.
To learn more about Northern Power Systems, please visit www.northernpower.com.
Featured Product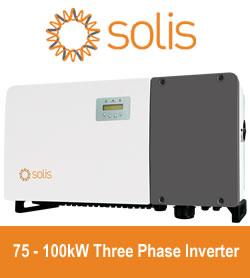 Solis75kW - 100kW series high-power string inverters are widely used in industrial and commercial rooftops. Solis's new three-phase string inverter is the first choice for industrial and commercial photovoltaics. 75-100kW three phase series string inverter have Maximum 28 strings input, support "Y" type connection in DC side. Maximum string input current 13A, support bifacial modules access.Supports anti-PID function to improve system efficiency.