A European research team has developed a novel technology that uses the properties of diamonds to harness the sun's energy for solar power.
A European research team has developed a novel technology that uses the properties of diamonds to harness the sun's energy for solar power.

Developed by the ProME3ThE2US2 project within the European Commission's FP7 framework, 'black diamond' is a breakthrough concept that promises to change the future of solar technology, potentially exceeding 50 per cent efficiency in solar concentration systems.
Diamonds satisfy two of the three conditions necessary for solar radiation capture - being able to withstand extremely high temperatures, and having the ability to emit electrons efficiently - but, because of their transparency, they are unable to adequately interact with sunlight. The team's creation of the 'black diamond' fulfils this third condition and can harness solar radiation at temperatures up to 1000 °C.
Furthermore, industrial low-cost 'black diamond' is exploitable for other electronic applications outside of solar technology, and the ProME3ThE2US2 team are inviting other industries to discover the benefits of this exciting new material.
As the global population grows and societies increase their energy consumption, the need to ensure sustainability also increases. The ProME3ThE2US2 project coordinator, Dr Daniele M. Trucchi, acknowledges that sustainability is essential for new technologies to be viable, and defines the scope within economic as well as environmental parameters: "Solar radiation is the largest energy source we have on Earth. Its more efficient and diffused exploitation means a higher energy availability with a minimal contribution to CO2 formation," Trucchi explains to International Innovation. "Nevertheless, high efficiency is not enough - materials composing the converters cannot be toxic to humans and have to be simply and economically recoverable at the end of their lifetime."
Although solar research and development has been struggling for investment in recent years, mainly because of low hydrocarbon prices, the ProME3ThE2US2 team are hopeful that as prices inevitably rise, the economic case for fossil fuels will subside, and their work will gain traction in the renewable energy community.
With landmark legislation recently passed in San Francisco that requires new buildings to be fitted with rooftop solar panels - and the report that rooftop solar panels could provide nearly half of US power if adopted as the primary resource - development of technologies like 'black diamond' brings new hope for future generations.
For more information on ProME3ThE2US2' work visit the full article at:
http://www.internationalinnovation.com/
Featured Product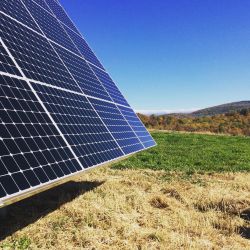 Designed and manufactured in the U.S., the AllEarth Solar Tracker is a complete grid-tied, dual-axis solar electric system that produces up to 45% more electricity than fixed systems. The tracker uses GPS and wireless technology to follow the sun throughout the day for optimal energy production. It has an industry-leading 10 year warranty and 120 mph wind rating, superior snow shedding, and automatic high wind protection. Its simple, durable design and complete system pallet simplifies costly procurement and installation time. Contact us about becoming a dealer partner or purchasing an AllEarth Solar Tracker.