Industrys leading biomass solutions provider is a silver sponsor of this years Advanced Bioeconomy Feedstocks Conference
VONORE, TENN. April 29, 2016 - Genera Energy Inc., a worldwide leader in biomass feedstock development and supply chain innovation, has announced it is a silver sponsor of the 2016 Advanced Bioeconomy Feedstocks Conference (ABFC). Presented by BiofuelsDigest, the three-day conference will be held at the Four Seasons Hotel in Miami, Florida, June 6-8, 2016.

ABFC is the largest gathering of advanced bioeconomy feedstock and supply chain leaders focusing on advanced foods, seed and trait development, crop and soil technology, and logistics. The conference brings together senior executives, government officials and academic leaders to examine and discuss the latest technology, finance, policy and customer trends and developments.
"For anyone interested in the current state and the future of the advanced bioeconomy, the ABFC is the new annual go-to event," said Dr. Sam Jackson, vice president of business development for Genera. "The keynote sessions, specialized workshops, networking opportunities and receptions provide the ideal forum for sharing best practices and making connections that help advance the entire bioeconomy. We are proud to sponsor this important industry gathering and look forward to contributing key learnings from our unrivaled experience."
The 2016 conference agenda includes updates on the outlook for biomass feedstocks, recent supply chain developments, crop and product innovations, and changes in US feedstock programs and policies. The full conference agenda is available at http://biofuelsdigest.com/ablc/agenda/. For more information about Genera Energy, visit www.generaenergy.com.
About Genera Energy, Inc.
Genera Energy Inc. supplies biomass feedstocks for the advanced bio-based industries, offering scalable industrial scale agriculture biomass supply solutions ranging from full service energy crop production to customizable supply chain solutions and managing biomass supply. Generas proprietary Supply ASSURE® feedstock management system and its BIN-SPEC® material handling and milling system offer Generas customers maximum feedstock reliability and quality while minimizing variability and cost. Based in Vonore, Tenn., Genera operates the countrys largest and most comprehensive industrial biomass management and processing facility. Focus on innovation and sustainability in delivering industrial biomass supply systems has earned Genera the Worlds Biofuels Markets prestigious 2013 Sustainable Feedstock Innovation Award. For more information, visit http://www.generaenergy.com.
Featured Product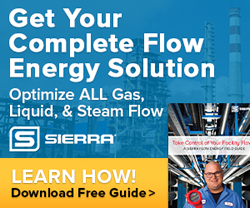 Download Flow Energy Guide - Written by Engineers For Engineers. Learn how to save on energy costs by optimizing your facility flows that impact costs like compressed air, natural gas, steam, and hot or chilled water.