Company renews its B-BBEE level 4 certificate
Cape Town, South Africa, May 3, 2016. Exosun, worldwide leading supplier of advanced, cost-effective solar tracking solutions for ground-mounted photovoltaic (PV) plants, confirms high local content performance in South Africa one year after the opening of its subsidiary in Cape Town. The recent renewal of Exosun Ptys B-BBEE (Broad-Based Black Economic Empowerment) level 4 certificate proves this accomplishment.

In order to maximize the performance of PV power plants, Exosuns local team offers its customers top-notch solar tracking systems manufactured, transported, and installed by high quality South African companies. Exosun Pty also accompanies its clients throughout all phases of a solar plant life cycle by providing engineering support services from the project design phase up to tracker installation, commissioning, and O&M.
Over the past year, the company carried out the design transfer of its technology from Europe to qualified South African manufacturers in order to ensure local production of 87% of its tracker value. Whats more, by carefully selecting local partners with an excellent B-BBEE level themselves, for the production, transport, and installation of its trackers (procurement recognition), Exosuns local content performance exceeds 100%.
With a concern for continuous improvement to contribute to the countrys economic development, Exosuns expanding South African team endeavours to maintain and possibly increase the companys B-BBEE level in the future. After successfully deploying 350 MW of solar tracking systems worldwide and thanks to high local content contribution, Exosun is ready to optimally serve IPPs, PV plant developers and EPCs on the booming South African PV market.
About Exosun
Exosun is a worldwide leading supplier of advanced, cost-effective solar tracking solutions for ground-mounted power plants. Driven by operational excellence, innovation and long-term customer commitment, Exosun partners with energy producers, developers and EPCs to boost their solar profits. Exosuns head office is based in France (Bordeaux) with subsidiaries in the U.S.A. (Exosun Inc.: main office in San Francisco, CA, and branch office in Phoenix, AZ), in South Africa (Exosun Pty, Cape Town), and in Brazil (Exosun Brasil Ltda, Salvador), as well as representative offices in Mexico, Chile, Portugal, and Spain. www.exosun.net
Featured Product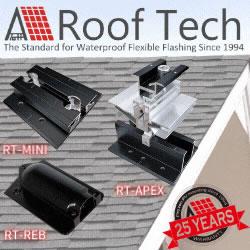 Now Roof Tech brings you the most innovative, watertight mounting systems ever developed for solar photovoltaic systems. Designed and manufactured exclusively for us by Japan's longtime leader in roofing technologies, Roof Tech products are 100% code-compliant and offer fast, simple installation and huge savings on shipping costs due to their compact, rail-less design. Learn more about our full line of versatile PV mounting solutions now available for residential installations. The next generation in rooftop solar mounting solutions."