Projects totaling 13 megawatts of solar and 6 megawatt hours of storage, SolarCity's largest such installation in the Northeast, will provide clean, dispatchable power when needed most
NORWICH, Conn., May 5, 2016 /PRNewswire/ -- Connecticut Municipal Electric Energy Cooperative (CMEEC), SolarCity (NASDAQ: SCTY) and Brightfields Development, LLC (Brightfields) today announced the development of 13 megawatts (AC) of solar power systems and at least 1.5 megawatts (6.0 megawatt hours) of energy storage systems located in southern Connecticut. CMEEC will use the solar and stored energy generated by the systems to provide a cleaner and more resilient power infrastructure for its municipal utility members and wholesale electric customers. CMEEC's member utilities serve more than 70,000 homes and businesses in six Connecticut communities as well as multiple communities in Massachusetts.

SolarCity and its development partner Brightfields have begun work on seven solar project sites which will comprise nearly 57,000 panels supplying clean, local solar energy when CMEEC needs it most. The sites are located in Bozrah (off of Brush Hill Road), in Norwich (on a portion of the Mountain Ash Farm and also on the city's former landfills located at Rogers Road), and in Groton (on open land provided by Northeast Housing LLC, which is managed by Balfour Beatty Communities, adjacent to the Navy Submarine Base). The energy storage solution installed at Mountain Ash Farm represents SolarCity's first capacity services project, whereby the company will provide engineering, installation, and maintenance of a battery storage system that CMEEC can control using SolarCity's proprietary GridLogic control platform. Through GridLogic, CMEEC will be able to remotely and instantaneously dispatch stored solar energy to manage load spikes and optimize the operational performance of the distribution system.
"CMEEC's focus is on energizing customers and community prosperity, so we are excited to help create clean, reliable and locally based power resources. These systems utilize leading edge technology that is both powerful and fiscally responsible," said Drew Rankin, CMEEC's Chief Executive Officer. "With these solar and storage projects, we are pleased to join SolarCity at the forefront of energy innovation."
Under the terms of the 20‐year solar power purchase agreements, SolarCity and its financing partners will build, own and operate the solar power systems while CMEEC will take advantage of locally produced, clean solar energy without the burden of a more traditional asset ownership structure.
CMEEC will provide the renewable power from these systems to all its customers throughout its portfolio of member utilities in the cities of Groton and Norwich, the Borough of Jewett City, the Second (South Norwalk) and Third (East Norwalk) Taxing Districts of the City of Norwalk, Connecticut, and Bozrah Light and Power Company. Additionally, the storage solutions will be financed by SolarCity, allowing CMEEC to pay a fixed rate to utilize the battery storage system that will lower operating costs and provide savings for its customers.
"The advanced solutions we're providing CMEEC today comprise the benefits of years of energy storage research and technology development," said Peter Rive, SolarCity's Chief Technology Officer. "Our GridLogic control platform integrates dispatachable solar power and energy storage to provide cost‐effective capacity, and additional stability to utilities and cooperatives like CMEEC and its customers. We're honored to implement this groundbreaking project as an example for the future."
All of the solar power systems are located on lands that are relatively under-utilized or are no longer being used for agricultural purposes. Mountain Ash Farm provides an ideal location for generating solar power while maintaining the property for the Stott family, who has owned the land for over seven generations. Instead of traditional dairy farming or growing corn on this land, the Stott family will now "harvest" solar energy for years into the future.
Brightfields Development worked in partnership with SolarCity to secure sites for the solar and storage projects and coordinate permitting, development and design work.
"We are proud of the development work Brightfields is doing in partnership with CMEEC and SolarCity, and we look forward to the successful completion of this portfolio," said John Hanselman, Principal and Founder of Brightfields Development, LLC.
The CMEEC projects are already underway, with the Mountain Ash Farm solar and storage project expected to be online by the end of June 2016, and the entire portfolio expected to be completed and operational by December 2016. For more information about solar options for utilities and businesses, please visit www.solarcity.com.
About Connecticut Municipal Electric Energy Cooperative
Serving customers and communities for 40 years, CMEEC is owned and governed by six member utilities: the cities of Groton and Norwich, the borough of Jewett City, the town of Bozrah, and the Second (South Norwalk) and Third (East Norwalk) Taxing Districts of Norwalk, Connecticut. CMEEC provides wholesale power and related requirements to member utilities as well as to the Mohegan Tribal Utility Authority and major electric customers in and beyond Connecticut. To learn more, visit www.cmeec.com.
About SolarCity
SolarCity (NASDAQ: SCTY) provides clean energy. The company has disrupted the century-old energy industry by providing renewable electricity directly to homeowners, businesses and government organizations for less than they spend on utility bills. SolarCity gives customers control of their energy costs to protect them from rising rates. The company makes solar energy easy by taking care of everything from design and permitting to monitoring and maintenance. Visit the company online at www.solarcity.com and follow the company on Facebook & Twitter.
About Brightfields Development, LLC
Brightfields Development LLC specializes in the development of solar energy projects on environmentally‐sensitive properties. For the past 25 years, the Brightfields team has built a strong reputation on successfully completing large remediation and revitalization projects, and it is accustomed to working with state and federal agencies, city managers, town councils and community groups at every step of the process. Each site is different, and Brightfields utilizes its in‐house experience to devise a secure, long‐term solar solution that is appropriate for the site. Brightfields is currently developing projects in MA, CT, PR, VT, NC and IL. For further information, please visit www.brightfieldsllc.com.
Featured Product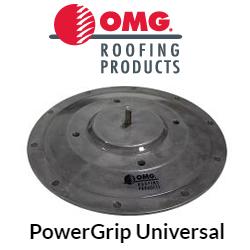 Eliminate Solar Rack Ballast and Reduce Rooftop Material Handling. PowerGrip™ Universal (PGU) is a commercial roof mount system designed to secure solar racks and other equipment to any type of commercial roofing system. PGU provides a secure connection directly to the roof deck or structural members and is designed to reduce or eliminate ballast in solar racking systems, so there's less weight on the roof and less material handling. Made of heavy-duty cast aluminum, PGU units include a base ring which is secured through the roofing cover and into the structural roof deck, and a waterproof top plate.