Meazon Opens Office on campus of Oakland University in Rochester Hills, Michigan
Rochester Hills, Michigan- May 11,, 2016 - Greek Energy Monitoring Company, Meazon, opens first US office in the Oakland University Incubator: OU INC in Rochester Hills Michigan. Meazon, having made the final call on a current Department of Energy (DOE) energy sub meters technology competition and recently been top 5 shortlisted at the Shell Great Lakes Innovation Competition, Founders Stelios Koutroubinas and John Gionas knew it was time for a US location.

Koutroubinas mentions, "We knew there was a need for our products and services when we visited Michigan and met with potential customers and kept receiving the same feedback- that our products are of the highest quality they have seen and with an excellent Total Cost of Ownership." Koutroubinas continues, "We are excited to be in the Oakland University Incubator, where the talent from their engineering program is impressive. We also are very happy to be in Michigan. Weve been working with Oakland Countys Economic Development & Community Affairs department to help make important connections into the Midwests energy market.
"We are thrilled to have Meazon in Oakland County," commented Irene Spanos, Director of Economic Development, "Its our second Greek-owned firm in Oakland County". Spanos continues, "Meazon fits into Mr. L. Brooks Pattersons Emerging Sector initiative, aimed at diversifying the make-up of Oakland County with emerging technology companies". In 2012, Spanos spoke to dozens of high-tech companies, in a partnership with US Embassy in Athens, on how to "How to Grow Your Business in the USA". It was a panel discussion with Amy Butler (Oakland University), Clara Mager (Butzel Long) on everything you need to know about expanding in the United States.
"As a result we continue to work with several Greek tech companies on their first US location in Michigan. We have a great business case in Oakland County, Michigan. We have a globally educated workforce, great business environment and we are already home to over 1,000 foreign-owned firms from 39 different countries" promoted Spanos.
Meazon is involved in several new pilot projects throughout Michigan. The demand for their "smart" products continues to increase dramatically.
About Meazon
In Meazon we design and deliver energy related Internet of Things products, combining hardware, firmware and software in a unique manner at a fraction of the price of what is available today. We have built a comprehensive portfolio of energy management solutions, with world-class team of 30 software, firmware and hardware engineers. Headquartered in Greece (Athens and Patras) and now in Michigan (Oakland County), partnering with a wide range of domestic and international ESCOs, systems integrators, energy utilities, service providers, buildings and industrial companies.
Featured Product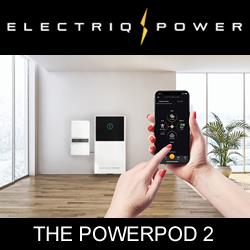 The Electriq PowerPod 2 is a fully-integrated home energy storage, management, and monitoring system powered by LFP batteries. The high-performance, cobalt-free product includes a hybrid solar/battery inverter controlled by intelligent software. The PowerPod 2 provides backup power and can self-consume or export excess power back to the grid.