Vestas, the Danish manufacturer of wind turbines, is addressing the further optimisation of wind-energy production by using an innovative multi-rotor concept. TÜV SÜD has accompanied the project during the design and development stage, and carried out third-party design examination and prototype certification according to IEC 61400-22.
To date, wind-turbine manufacturers have relied on ever larger turbines to increase energy production and reduce the cost of energy. Vestas multi-rotor concept now marks a new and innovative approach. To undertake in-depth investigation of the concept, Vestas installed a concept demonstrator turbine with four nacelles and four 29-m-diameter rotors attached to a single support structure. The support structure comprises one central steel tower and two rotor arm assemblies arranged vertically at two levels. The rotor arm assemblies can rotate individually around the tower. They are composed of beams, truss members and prestressed steel ropes, giving the rotor arm assemblies a slim appearance.

"The multi-rotor turbine represents an unusual approach and is thus a challenge for technical assessment", says Dr Alexander Kupzok, Project Manager at TÜV SÜD, adding, "For us as a certification organisation, innovative systems and concepts provide an opportunity to contribute and demonstrate the full extent of our expertise". The experts from the international testing and certification organisation have accompanied the design and development of the multi-rotor turbine. Their task was to examine how the established wind-energy standards can be applied to the design examination of an entirely new turbine concept. The TÜV SÜD experts assessed and confirmed conformity with the standards throughout the individual stages of development - from the concept drawings to testing at the manufacturer's premises and erection on site at the location of the demonstrator turbine. "By following this approach, we managed to ensure reliable planning in spite of the time constraints and technical challenges involved", explains Dr Kupzok. After successful design examination, TÜV SÜD issued a prototype certificate according to IEC 61400-22 and Danish Executive Order No. 73 - an important requirement for obtaining the building and operation permit for the multi-rotor turbine in Denmark.
"The installation of this multi-rotor concept demonstration turbine has enabled us to show that innovation sometimes requires new mindsets and bold approaches", says Jorge Magalhaes, Senior Vice President Innovation & Concepts at Vestas. "In TÜV SÜD, we have found a certification partner that has supported us all the way, and that has not been afraid of thinking out of the box and choosing unconventional solutions."
Wind energy services from TÜV SÜD
TÜV SÜD looks back on a long and successful track record in the certification of both onshore and offshore wind farms, wind turbines and their components. The international testing and certification organisation also supports planners, contractors, investors and owners in risk analyses, occupational health and safety concepts and quality assurance during construction. Other core fields of activity include quality assurance in component manufacturing and periodic testing and inspection throughout the service life of the wind turbines.
Featured Product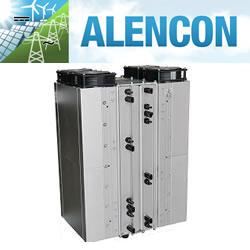 Alencon Systems is the premier manufacturer of high power, high voltage DC:DC optimizers for alternative energy applications including solar, battery energy storage, Microgrids, Fuel Cells and Electric Vehicle charging. Alencon's DC:DC converter offerings include the SPOT, BOSS and CUBE series DC:DC converters. The SPOT is a modular, uni-directional DC:DC solution ideal for solar applications. The BOSS is a modular, bi-directional unit for use with battery energy storage. The CUBE is a monolithic DC:DC converter which is available in both uni-directional and bi-directional modalities. Pictured above, is the Alencon SPOT.