Event unveils big changes and 'Generation Wind theme in the Big Easy
New Orleans, May 23, 2016 — Thousands of wind power developers, manufacturers, workers, executives, and more arrive from around the world to New Orleans for a four-day conference and exhibition today as Americas industry with the fastest growing job kicked off its largest event all year.

WINDPOWER 2016 began this morning with the election of new leadership by the American Wind Energy Associations (AWEA) Board of Directors and takes place as wind energy stays on track to supply 20 percent of U.S. electricity by 2030 - and with Louisiana rising as an emerging player in the industry. Former Louisiana Sen. Mary Landrieu will provide local flavor for the wind industrys largest gathering in the Western Hemisphere by speaking during tomorrows Welcome & Opening General Session at the Ernest N. Morial Convention Center starting at 9:00 a.m.
"With long-term policy certainty in place, this years attendees are excited to arrive in New Orleans and see whats next for our industry," said Tom Kiernan, CEO of AWEA. "Thanks to U.S. factory workers building wind turbine parts and supplies, including hundreds here in Louisiana, we continue to lower our costs and give Americans the power to power ourselves."
Wind power now supports 88,000 jobs in the U.S. and could support 380,000 jobs by 2030. American innovation has helped wind power lower its costs by two-thirds in just six years, passing the savings onto American homeowners and businesses.
"Thanks to 20 percent job growth over the previous year, there are more workers in wind power than there are seats in the Superdome," continued Kiernan. "With its continued technology upgrades wind energy continues to expand throughout the Southeastern U.S. By adding new transmission lines we can bring even more of wind powers clean, low-cost source of electricity to more Americans in this region."
As its technology changes and new leaders emerge a new generation of wind power is arriving in the U.S. Those changes led to this years WINDPOWER theme to be labeled 'Generation Wind The theme helps to promote future leaders in the industry and, with over 100 sessions and presentations, this years conference offers more opportunities than ever for attendees to learn and to network.
"Wind power has become a key part of Americas electricity mix, and generation wind has arrived here in New Orleans," said Jana Adams, Senior Vice President of Member Value and Experience, AWEA. "Our flagship trade show WINDPOWER 2016 is changing to match our industrys progress, were engaging the industry on many levels, training future leaders, and together preparing to meet Americas energy needs."
This years WINDPOWER comes at a pivotal point for the industry as long-term policy certainty was passed by a bipartisan Congress last year, a continued rise of new investment in clean energy technology by Fortune 500 companies and other emerging buyers, and an unstoppable shift to a safer, cleaner-powered future by many states and the electricity sector takes hold.
New AWEA leadership
AWEAs membership elected Chris Brown, President of Vestas Americas, its new Board chairman, succeeding Mike Garland, CEO of Pattern Energy Group LP. Other officers elected today are Chair-Elect Tristan Grimbert, President and CEO of EDF Renewable Energy, Treasurer Ray Wood, Managing Director - Global Head of Power & Renewables at Bank of America Merrill Lynch, and Secretary Michael Skelly, President of CleanLine Energy Partners.
Also joining as new additions to AWEAs Board of Directors through its member elections are:
• Bill Fehrman, Chief Executive Officer and President, MidAmerican Energy Company
• Rafael Gonzalez, Chief Executive Officer, Enel Green Power North America, Inc.
• Greg Wolf, President, Commercial Portfolio, Duke Energy Renewables
Finally, we welcome new interim Directors recently voted in by AWEAs Board:
• Frank Burkhartsmeyer, President and Chief Executive Officer, Avangrid Inc.
• Karen Lane, Chief Financial Officer, Wind Power and Renewables, Siemens Energy
More details on tomorrows Welcome and Opening General Session
While meeting for the first-time ever in Louisiana, industry leaders arrive at WINDPOWER 2016 to make deals and set the course for the next generation of wind power.
Set to address the big topics facing the U.S. wind industry today, and in the years ahead, is the U.S. Wind Industry Leaders Panel, beginning shortly after Sen. Landrieu speaks tomorrow, featuring newly-elected AWEA Board Chair Chris Brown, and panel moderator Wall Street Journals Senior Energy Reporter Russell Gold.
Tuesday, May 24
WINDPOWER 2016 - Welcome and Opening General Session
What: WINDPOWER 2016, Welcome and Opening General Session, followed by media availability.
Who: New Orleans Mayor Mitch Landrieu (invited)
Former Louisiana Sen. Mary Landrieu
Steve Farber, Keynote Speaker and Best-Selling Author
Tom Kiernan, Chief Executive Officer, American Wind Energy Association
John Woolard, Vice President of Energy, Google
Steve Berberich, President and Chief Executive Officer, California ISO
Jacob Andersen, President, Wind Power and Renewables, Siemens
Kevin Gildea, Executive Director, Business Development, NextEra Energy Resources
Chris Brown, Board Chair, AWEA, and President, Vestas Americas
Jeffrey Grybowski, Chief Executive Officer, Deepwater Wind LLC
Michael Skelly, Founder and President, Clean Line Energy Partners, LLC.
Eric Stidman, Chief Financial Officer, BP Wind Energy North America, Inc.
Patrick Woodson, Chairman, E.ON Climate & Renewables, North America
When: 9:00 a.m. to 11:00 a.m., Tuesday, May 24
Where: Ernest N. Morial Convention Center, Convention Center Boulevard
A media availability will take place tomorrow in Room 292 at 11:15 a.m. Central Time, following the WINDPOWER Welcome and Opening General Session. A press kit for participating media with additional details can be found here: www.awea.org/presskit.
Wind currently supports hundreds of Louisiana workers in the manufacturing sector, including factories that produce wind turbine blades and also components for the U.S. offshore wind industry. Already with 500 facilities in 43 states, the manufacturing sector has the ability to grow with the industry. While Southeastern utilities are already recognizing the value of wind energy, Louisiana utilities are now also showing interest, joining others that are signing long-term, fixed price contracts to import wind and save consumers money.
For a library of up-to-date library images of wind energy use this link http://www.awea.org/MediaCenter/content.aspx?ItemNumber=7244
###
AWEA is the national trade association of the U.S. wind energy industry, with over 800 member companies, including global leaders in wind power and energy development, wind turbine manufacturing, component and service suppliers, and the Western Hemispheres largest wind power trade show, the AWEA WINDPOWER Conference & Exhibition, which takes place next in New Orleans, May 23-26, 2016. AWEA is the voice of wind energy in the U.S., promoting renewable energy to power a cleaner, stronger America. Look up information on wind energy at the AWEA website. Find insight on industry issues at AWEA's blog Into the Wind. Join AWEA on Facebook. Follow AWEA on Twitter.
Featured Product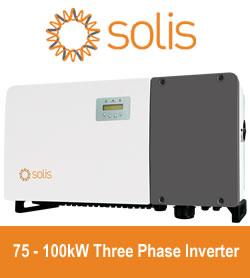 Solis75kW - 100kW series high-power string inverters are widely used in industrial and commercial rooftops. Solis's new three-phase string inverter is the first choice for industrial and commercial photovoltaics. 75-100kW three phase series string inverter have Maximum 28 strings input, support "Y" type connection in DC side. Maximum string input current 13A, support bifacial modules access.Supports anti-PID function to improve system efficiency.