Iowa Biodiesel Board lauds bill to boost biodiesel usage and keep production in state
- It just makes sense! Thats the sentiment from the Iowa Biodiesel Board and other supporters as Iowa Governor Terry Branstad signed SF 2309 into law today, expanding state biodiesel incentives.

The bill includes a tax credit that helps keep the states 13 biodiesel producers competitive on a national scale. It also includes a retailers credit that entices fuel retailers to carry higher blends of biodiesel than they may currently carry. Flanked by biodiesel supporters from around the state, Branstad signed the legislation at the REG Newton biodiesel plant in Newton, Iowa.
"We are extremely grateful that Governor Branstad and the Iowa legislature appreciate the impact of biodiesel in Iowa and beyond," said Grant Kimberley, Iowa Biodiesel Board executive director. "Renewable fuels like biodiesel point the way to a more sustainable energy future—and a more independent, home-grown energy future as well."
The legislation:
• Extends the Biodiesel Production Credit through 2024, originally set to expire at the end of next year. The credit is 2 cents per gallon on the first 25 million gallons of production per biodiesel plant, and helps keep biodiesel production and economic activity in Iowa.
• Extends and expands the Biodiesel Promotion Retail Tax Credit. The incentive will continue to provide petroleum retailers 4.5 cents a gallon on blends of at least 5 percent biodiesel (B5) through 2017. From 2018 - 2024, the B5 incentive will drop to 3.5 cents per gallon, but an additional incentive of 5.5 cents per gallon will take effect for gallons of B11 and higher.
"With these additional incentives, Iowa is perfectly positioned to experience even more economic growth in environmentally friendly biofuels," Kimberley added.
The governor previously signed legislation to secure another year of funding for the states successful biodiesel and ethanol blender pump program, the Renewable Fuels Infrastructure Program.
In 2015, Iowas operating biodiesel plants produced a record 242 million gallons of biodiesel. The industry supported more than 3,000 jobs and contributed almost $345 million in GDP for the year.
Biodiesel is an advanced biofuel made from agricultural byproducts and co-products, such as soybean oil. The Iowa Biodiesel Board is a state trade association representing the biodiesel industry.
Featured Product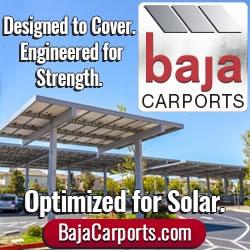 Baja Carports offers an extensive solar support system product line customized to customers' site specifications by in-house engineers, meeting their parking lot coverage, plus optimal PV production needs. Baja's Full Cantilever Tee is often paired with its Semi and Full Cantilever carports to meet live/loads up to 60psf and wind speeds to 160mph. All Baja products are pre-fabricated, bolted connections, pre-galvanized structural steel for fast on-site installation and project aesthetic requirements."