ABB, the wind industrys leading technology solutions provider, is unveiling new wind farm applications and best practices at AWEA Windpower 2016 this week.
New Orleans, Louisiana, May 24, 2016 - Flexible AC Transmission Systems (FACTS), microgrids, control systems and grid integration solutions on display to help wind developers and operators across the wind value chain leverage new technologies from source to socket.

ABB, the wind industrys leading technology solutions provider, is unveiling new wind farm applications and best practices at AWEA Windpower 2016 this week.
Building off a half-day, pre-show technical training session on Monday afternoon, May 23, entitled, "Best Practices for Wind Generation," in conjunction with the American Wind Energy Association (AWEA), ABB will demonstrate how new wind generation technologies beyond the turbine - including maintenance, controls systems, analytics and substations - can improve reliability and decision making.
ABB will have experts in the booth to showcase a digital array of new technologies around the total wind solution and grid interconnection, such as managing reactive power to meet grid codes, and the latest in Statcom, microgrids and energy storage. ABB will offer power equipment from the wind turbine converter to turnkey substations. This includes a full line of low and medium voltage components (including the new EMAX breaker), high voltage capacitor banks, switchgear, transformers and wind turbine converter solutions for wind farms of all sizes. In addition, learn about ABBs Enterprise Software and service offering for accurate wind forecasts and data collection.
"ABB has partnered with AWEA for many years now in building the wind industry in the United States, and were pleased to again play a big role in this important industry gathering," said Dennis McKinley, director of wind power solutions in North America for ABB. "This year were demonstrating for wind developers and operators what is now possible and proven for making operational decisions that ensure bankability, accurate forecasts and reliable grid connections."
Featured technologies include:
Flexible AC Transmission Systems (FACTS) - In order to preserve grid reliability, system operators need to maintain voltage levels through reactive power control on the transmission network. Traditionally, utilities would provide reactive power support using convention synchronous generators placed throughout the grid, but with the vast proliferation of wind energy, utilities are finding it more difficult to provide precise reactive power control that the electrical grid requires. FACTS devices can increase power flow and system reliability on the transmission network to help overcome these obstacles.
Microgrids - To reduce greenhouse gas emissions, lower cost of energy and wean themselves off fossil fuels, a number of remote and island communities are investing in renewable generation. Despite the many challenges, foremost among them being the intermittency of renewable power generation, technology to counteract and ensure grid stability has now become commercially viable and can be leveraged to fully utilize wind energy.
ABB Low Voltage Products - ABBs Low Voltage Products business, along with Thomas & Betts, will be offering a full line of wind turbine converter protection products and wind farm connection products, including new technology in circuit breaker and lightning protection solutions. In addition they will feature smart components in grid tie technology and IEC 61850 code compliance.
ABB will again have a large presence throughout the event. In addition to the pre-show technical session, ABB experts will be sharing their technical experience and successful applications with wind operators. Topics include:
• Reactive Power Control to Support Wind Integration to the Transmission Network
o Joacim Redlund , Product and Business Development Manager for ABB FACTS North America
o Tuesday, May 24, 12:00 in the "Project Development Station"
• What Shape are your Turbines in? - Poster Session, Wed. May 25, 4:30 - 6:00 pm
o Adrian Timbus, global technology and solutions manager, Smart Grid and Wind
• High Penetration Renewable Power Microgrids - Poster Session, Wed. May 25, 4:30 - 6:00 pm
o Nathan Adams, General Manager, ABB North American Microgrids
• Adopting a Standardized Approach to Wind Farm Collector Substation Design - Poster Session, Wed. May 25, 4:30 - 6:00 pm
o Matthew Vaughn, ABB business development manager, Substations
• Precise Reactive Power Control to Integrate Wind - Poster Session, Wed. May 25, 4:30-6:00 pm
o Khudmir Syed, Technical Sales and Applications Engineer, Power Conversion Systems
AWEA Windpower 2016, the wind industrys premiere conference and exhibition in North America, will run from May 23-26, and ABB will be exhibiting in booth # 3439.
ABB (www.abb.com) is a leader in power and automation technologies that enable utility, industry, and transport and infrastructure customers to improve their performance while lowering environmental impact. The ABB Group of companies operates in roughly 100 countries and employs about 135,000 people.
Featured Product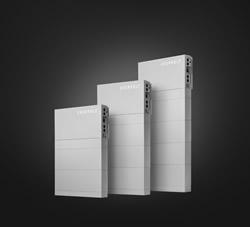 Renewable energy stored in an EVERVOLT home battery system is the perfect backup plan against an uncertain utility grid and weather events. Run key appliances longer and live life when the unexpected happens. EVERVOLT battery storage systems are covered by a complete 12-year warranty from Panasonic.