• Acquisition accelerates growth of the leading online market place for the wind industry • The move has added 2,300 international customers • Online marketing with the focus on energy transition and export promotion
Gelnhausen/IJzendoorn, 25 May 2016. WIV GmbH, successful operator of online market place www.wind-turbine.com, announces its acquisition of the Dutch www.windturbines-marketplace.com portal. Takeover and merger of both portals strengthen the market position in the innovative online business of the expanding wind industry.

"Teaming up of both portals is a logical milestone for wind-turbine.com in order to step up our global expansion efforts and gain further market share. At the same time, we are obtaining expertise from our Dutch partner, portal operator Windbrokers Europe, in the international repowering market," explains Bernd Weidmann, managing director of WIV GmbH and founder of wind-turbine.com.
"We are looking forward to collaborating with wind-turbine.com, because their innovative business model and the portal's modern design have convinced us and are setting a new standard," says Henk van den Bosch, managing director of Windbrokers Europe.
Worldwide customer enquiries create new momentum
The acquisition of windturbines-marketplace.com enables wind-turbine.com to win some 2,300 international and active customers, who have shown special customer-loyalty to the Dutch online market place, (which has been online since 2009). These customers are leading companies such as Vestas, Siemens and Enercon, which frequently are also represented with their foreign subsidiaries in the portal.
Active online-customers also include large and medium-sized European utilities, project developers, operation & maintenance businesses, engineering offices and service providers from Sweden, Spain, Denmark, Italy, Belgium, Poland, Turkey, India, UK, Canada and the US.
Facilitating new business deals and paving the way for renewables throughout the world
"Our goal is to continue positioning wind-turbine.com in a way that fosters the worldwide energy transition and provide our customers with real business opportunities. We create transparency in the global wind community," points out Bernd Weidmann, "whilst at the same time strengthening sales and marketing of our corporate customers by professional online and Google marketing."
Accelerating wind energy projects around the world and promoting exports
The portal's success reflects worldwide growth of the wind industry, In 2015 this amounted to at least 55,000 megawatts which is equivalent to an increase by more than 15 percent compared to 2014.
Today wind-turbine.com already has more than 4,700 wind turbines, components, services and projects monthly on offer for ca. 20,000 potential customers from about 200 countries. Currently, some 1,800 providers put new and second hand wind turbines online, or present products from the supplier sector and services ranging from project development to logistics. Moreover, the group of investors increasingly use wind-turbine.com to make their single investments and also commercial-scale ones visible.
Featured Product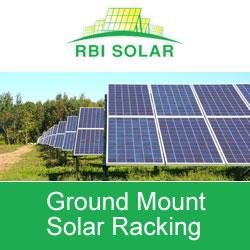 RBI ground mount solar systems are designed and engineered for each customer's site specific conditions to minimize the field installation labor and require no field welding, drilling, or other on-site fabrication. Our meticulous project planning and precise execution combine to provide you with solar racking solutions that are tailored to the unique conditions of your location. RBI provides a wide range of PV mounting systems in various sizes to offer freedom and flexibility to support every type of PV module. RBI Solar ground mount system is a perfect utility scale solar racking solution with two models classified by Intertek to UL subject 2703. ETL Classified systems include proven models GM-I and GM-T which have been used on many large commercial and utility scale solar racking projects across the country.