Finnish cleantech companies in California this week
LOS ANGELES, June 1, 2016 /PRNewswire/ -- Ten leading Finnish cleantech companies are meeting Californian public organizations and companies this week in Los Angeles and San Francisco to discuss helping meet California's ambitious targets in using 50% renewable energy sources by 2030.

The Finnish companies, whose products and services are also showcased at the CEM7 Clean Energy Ministerial this week, represent expertise in areas such as SaaS solutions for energy management, waste-to-energy solutions, fuel cell technologies and solutions for smart traffic and metering.
"The companies visiting California this week are headquartered in Finland, the greenest country in the world 2016 according to the Environmental Performance Index (EPI). Finland has a long track record of combining ICT with environmental awareness, which explains the innovativeness of our cleantech companies and our recurring high standing in global cleantech indices," says Ilkka Homanen, head of industry, Cleantech Finland at Finpro.
Some of the visiting Finnish cleantech companies have already established their presence in California, others are looking for partners and investors to speed up their establishment. Meetings with potential clients and investors are being organized in co-operation with local organizations such as universities and incubators.
Juha Markkanen, Consul General of Finland in Los Angeles forecasts a great future with co-operation: "California is a global frontrunner of clean technologies as challenges in increasing population, energy security and lack of clean water are actively addressed. Innovation ecosystem in Finland is geared to provide relevant and efficient solutions for these challenges. California is an ideal location to harvest these solutions for better future. I believe that by combining our strengths we can achieve considerable synergy gains that would be able to provide attractive and clean solutions all over the world."
More information:
Mr Ilkka Homanen
Mr Juha Markkanen
Mr Aki Luukkainen
Head of Industry, Cleantech Finland,
Consul General of Finland,
Counsellor, Economy and Trade
Finpro
Los Angeles
Los Angeles
Cell: +358 445 774 430
Cell: 310 721 3600
Cell: 310 739 0832
ilkka.homanen@finpro.fi
juha.markkanen@formin.fi
aki.luukkainen@formin.fi
Cleantech Finland is a network of top cleantech companies and experts - your hub for cleantech activity in Finland.
Finpro helps Finnish SMEs go international, encourages foreign direct investment in Finland and promotes travel to Finland. Finpro is a public organization consisting of Export Finland, Visit Finland and Invest in Finland. Our almost 240 professionals work in 37 Trade Centers in 31 countries and 6 offices in Finland. www.finpro.fi Finpro - Growth for Finland
In Team Finland, Finpro manages almost 40 significant Growth Programs such as Cleantech Finland, Food from Finland and FinlandCare. Through the Growth Programs, Team Finland helps hundreds of Finnish companies enter the international market and attracts investments from around the world to Finland. www.teamfinland.fi
Featured Product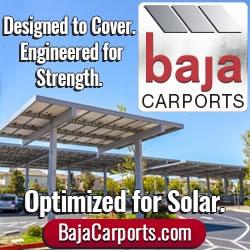 Baja Carports offers an extensive solar support system product line customized to customers' site specifications by in-house engineers, meeting their parking lot coverage, plus optimal PV production needs. Baja's Full Cantilever Tee is often paired with its Semi and Full Cantilever carports to meet live/loads up to 60psf and wind speeds to 160mph. All Baja products are pre-fabricated, bolted connections, pre-galvanized structural steel for fast on-site installation and project aesthetic requirements."