- At booth A1 270 Hanwha Q CELLS showcases full PV portfolio for high-end performance and quality - Q.ANTUM technology matured with more than 330 million solar cells produced since 2012, equaling 1.5GW - Q CELLS receives "Top Brand PV" seal from EuPD Research for the third year in a row for Europe and for the first time for the USA and Australia
SEOUL, South Korea, June 13, 2016 /PRNewswire/ -- Hanwha Q CELLS Co., Ltd. ("Hanwha Q CELLS" or the "Company") (Nasdaq: HQCL) will showcase the full suite of photovoltaic products and solutions based on its proprietary and matured Q.ANTUM technology at Intersolar Europe in Munich from June 22nd to 24th 2016. At booth No. 270 in Hall A1, the visitors will learn about the strong international position of one of the largest and most diverse photovoltaic companies worldwide and experience the capabilities of Hanwha Q CELLS in terms of the high performance and high quality of its PV products and solutions. Hanwha Q CELLS will also throw a spotlight on the "PV Stage" where a variety of presentations and the "Installation Innovation Award" will be presented.

Hanwha Q CELLS' CEO, Seong Woo Nam, said: "Intersolar Europe has been very important to us presenting our latest technology and innovative energy solutions to our many existing and future customers at Europe's most important PV trade fair. Particularly we are very excited to present full suite of product lines with our proprietary Q.ANTUM technology, which will deliver high performance and lasting reliability to our partners' projects in various applications and scales."
Hanwha Q CELLS SOLAR MODULES BASED ON EXPERIENCE OF OVER 330 MILLION Q.ANTUM CELLS PRODUCED
At Intersolar Europe Hanwha Q CELLS will focus its PV product and solution exhibition on the renowned Hanwha Q CELLS brand, which has just been awarded the EuPD Seal "Top Brand PV" for the third time in a row for Europe and for the first time also for the USA and Australia. All showcased Q CELLS solar products will feature Hanwha Q CELLS' proprietary Q.ANTUM technology as their engine for achieving higher energy yields and lower levelized costs of electricity (LCOE) in real life conditions. Q.ANTUM is a cell concept based on a rear-side passivation of the solar cell and including many additional and patent protected technological features. Q.ANTUM improves power output, low-light and temperature-behavior, while at the same time offering all of Q CELLS' VDE certified quality standards like Anti-PID technology, Hot-spot protect, and Tra.Q laser marking. Q.ANTUM has been developed and matured by Hanwha Q CELLS and the Company has achieved a track record of over 330 million cells produced in commercial mass production, equaling 1.5GW.
Next to the high performance and quality solar modules, the visitors of the Hanwha Q CELLS booth will also experience diverse opportunities to combine Q CELLS modules with inverters and storage in order to optimize the LCOE of residential as well as commercial & industrial solar applications. Finally, professionals in utility scale solar will learn about the experience and expertise of Hanwha Q CELLS in engineering and constructing large scale PV power plants.
Q CELLS PRODUCT HIGHLIGHTS
Q.PLUS BFR -G4.1: polycrystalline 60-cell Q.ANTUM solar module with power classes of up to 280 watts offering an excellent price-performance-ratio; ideally suited for rooftop applications in residential as well as commercial & industrial PV systems
Q.PLUS L-G4.2: polycrystalline 72-cell Q.ANTUM solar module with power ratings of up to 340 watts offering highest power outputs and low BOS costs in large scale solar power plants
Q.PEAK-G4.1: monocrystalline 60-cell Q.ANTUM ULTRA solar module with power ratings of up to 305 watts offering maximum energy yield under real conditions. Ideally suited for residential applications thanks to the combination of high performance with outstanding optical appearance
G2G Prototype: polycrystalline 60-cell solar module prototype featuring glass-to-glass technology and a decentralized junction-box-concept combining increased durability and reliability with lower BOS costs
Q.HOME / Q.HOME+: High efficiency Q CELLS solar modules + inverters + energy storage for residential systems
"INSTALLATION INNOVATION AWARD" AND PRESENTATIONS ON PV STAGE
Next to the PV product and solution highlights, the PV Stage at the Hanwha Q CELLS booth will draw the attention of Intersolar visitors. A number of presentations given by our experts as well as external PV professionals and scientists will cover a wide range of PV related topics. As special highlight, the "Installation Innovation Award" will be presented on the PV Stage. This award offers a forum to installers in Europe to present their most advanced projects and ideas.
About Hanwha Q CELLS
Hanwha Q CELLS Co., Ltd. (NASDAQ: HQCL) is one of the world's largest and most recognized photovoltaic manufacturers for its high-quality, high-efficiency solar cells and modules. It is headquartered in Seoul, South Korea (Global Executive HQ) and Thalheim, Germany (Technology & Innovation HQ). With its diverse international manufacturing facilities in South Korea, Malaysia and China, Hanwha Q CELLS is in a unique position to flexibly address all global markets. Hanwha Q CELLS offers the full spectrum of photovoltaic products, applications and solutions, from modules to kits to systems to large scale solar power plants. Through its growing global business network spanning Europe, North America, Asia, South America, Africa and the Middle East, the company provides excellent services and long-term partnership to its customers in the utility, commercial, government and residential markets. Hanwha Q CELLS is a flagship company of Hanwha Group, a FORTUNE Global 500 firm and a Top 10 business enterprise in South Korea. For more information, visit: http://investors.hanwha-qcells.com/
SOURCE Hanwha Q CELLS Co., Ltd.
Featured Product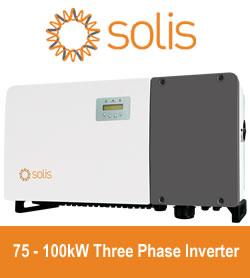 Solis75kW - 100kW series high-power string inverters are widely used in industrial and commercial rooftops. Solis's new three-phase string inverter is the first choice for industrial and commercial photovoltaics. 75-100kW three phase series string inverter have Maximum 28 strings input, support "Y" type connection in DC side. Maximum string input current 13A, support bifacial modules access.Supports anti-PID function to improve system efficiency.