1.3 MW of intelligent energy storage from California-based firm, Stem, will be deployed at Park Place to reduce energy bills and strengthen the Southern California grid
IRVINE, Calif.--(BUSINESS WIRE)--Stem, a leading provider of intelligent energy storage solutions, is proud to announce a storage installation program with Park Place, a 2.1 million square foot mixed-use corporate complex in Irvine, which is owned and operated by LBA Realty. In partnership with Principal Real Estate Investors, these companies will kick off the initiative with a 1.3 MW indoor installation at the complex. This project was facilitated by Black Bear Energy who acted as the owners representative to LBA Realty.

Upon completion at the end of the year, Park Place will house the largest indoor energy storage system in the nation. Stem will operate and manage the system, delivering automated electricity savings to Park Place while also providing on-call demand reduction to help Southern California Edison (SCE) balance the grid during peak times.
This installation is part of SCEs initiative to help relieve grid congestion in the West Los Angeles Basin region using a variety of methods such as energy storage. The storage system at Park Place will help reduce the local grids reliance on fossil-fueled power plants and improve overall electricity reliability in the region.
"We continue to demonstrate leadership in enhancing our properties with smart building technologies that increase sustainability, strengthen the local power grid, and reduce costs for our tenants," said Perry Schonfeld, principal and COO of LBA Realty. "The installation of Stem's cutting-edge technology is the most recent demonstration of this commitment and once again highlights our status as a premier commercial real estate owner and operator."
The project leverages Stems strong track record and industry-leading technology to help LBA achieve key strategic operating and sustainability objectives. By adopting the Stem solution, LBA is also serving the broader Irvine community and contributing to a more reliable and sustainable grid.
The intelligent storage system, designed and operated by Stem, will automate energy cost savings without impacting tenants comfort or operations. The systems robust software platform calls on the batteries to store power when energy costs are low, then rapidly deploy it to avoid expensive peaks or respond to strains on the local power grid.
"Beyond delivering the compelling economic benefits of intelligent storage, our goal is to empower organizations like LBA Realty to become active grid citizens who enable an efficient and sustainable electricity network," said Stem CEO, John Carrington. "Activating the largest indoor energy storage system in the U.S. speaks volumes to LBAs commitment to sustainable energy solutions and the local community and raises the bar for commercial real estate groups across the country."
About LBA Realty
LBA Realty is a full service real estate investment and management company with a diverse portfolio of office and industrial properties in major markets throughout the western United States.
About Principal Real Estate Investors
Principal Real Estate Investors manages or sub-advises $66.0 billion in commercial real estate assets1. The firms real estate capabilities include both public and private equity and debt investment alternatives. Principal Real Estate Investors has a long-standing commitment to corporate stewardship and an established track record in responsible property investing. In 2013, Principal Real Estate Investors launched its Pillars of Responsible Property Investing initiative, which provides a unique overarching environment-social-and-governance framework that meets the evolving needs of today's sophisticated investors. Principal Real Estate Investors is the dedicated real estate group of Principal Global Investors, a diversified asset management organization and a member of the Principal Financial Group®.
1 As of 31 March 2015
About Stem
Stem, a leading provider of intelligent energy storage, combines big data, predictive analytics and energy storage to simultaneously reduce electricity costs for businesses and in aggregate, deliver services to the grid. Stems software learns a customers unique energy profile to maximize savings and displays real-time and predicted energy use alongside actionable recommendations. When aggregated, Stems customer-sited storage network offers flexible, cost-competitive capacity to the grid. Headquartered in Millbrae, California, Stem is funded by a consortium of leading investors including Angeleno Group, Iberdrola (Inversiones Financieras Perseo), GE Ventures, Constellation Technology Ventures, Total Energy Ventures, Mitsui & Co., Ltd., RWE Supply & Trading and Mithril Capital Management. For more information visit www.stem.com
About Black Bear Energy
Black Bear Energy is a buyers representative serving large property owners and users in their procurement of renewable energy and clean technology. Founded with support from Rocky Mountain Institute they are accelerating the adoption of clean energy amongst commercial and industrial properties. For more information visit www.blackbearenergy.com
Featured Product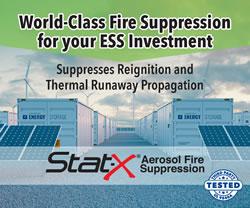 Stat-X® condensed aerosol fire suppression is a solution for energy storage systems (ESS) and battery energy storage systems (BESS) applications. Our Stat-X condensed aerosol fire extinguishing product was tested for efficacy in suppressing li-ion battery fires. It was found that the product successfully extinguished single and double cell battery fires. This testing was conducted in parallel with a large battery fire testing program on behalf of a large energy storage company.