ANZ Bank in Vientiane turns to 90 kWp rooftop solar PV for long-term cost savings
VIENTIANE, LAOS (June 16, 2016) - Sunlabob Renewable Energy Ltd., the venture-backed company specializing in renewable energy and clean water solutions, recently completed the construction and commissioning of a 90 kWp roof-mounted solar photovoltaic (PV) system at the Australia and New Zealand Banking Groups (ANZ) main office in Vientiane, Laos.

The project is the first-ever commercial grid-connected solar system in Laos.
"Adding solar energy to our building perfectly aligns with ANZs approach to doing business and our ongoing commitment to reducing our impact on the environment," said Craig Paice, COO, ANZ Laos. "Solar is a smart, long-lasting and profitable investment that also enables ANZ to generate its own clean, renewable and environmentally-responsible electricity."
The solar system is estimated to save ANZ more than $20,000 USD per year from its utility expenses. Grid-connected solar systems of similar design typically generate electricity for 25 years or more.
As utility electricity prices continue to increase in Vientiane, businesses, organizations and households are increasingly viewing grid-connected "captive power" solar installations as financially attractive.
"Our customers have always been aware of the environmental and energy security benefits of a solar system in an urban environment like Vientiane, so it is very encouraging to now see that the financial benefits of solar are also a part of the decision-making process," noted Andy Schroeter, Sunlabob CEO.
Sunlabob completed the deployment of a grid-connected solar project on the roof of the United Nations Development Programme (UNDP) office in Vientiane in late-2015 and also recently completed the installation and commissioning of another grid-connected rooftop solar system at the World Bank Groups head office in Vientiane.
###
About Sunlabob Renewable Energy, Ltd.
Sunlabob Renewable Energy, Ltd. is a venture-backed internationally-focused company specializing in renewable energy, decentralized energy access and clean water solutions throughout the developing world.
Established in 2000, the company has expanded far beyond its initial focus in Laos, now providing its integrated expertise of renewable energy and rural electrification to governments, multilateral development agencies, multinational companies, NGOs and private companies.
Sunlabob, to-date, has implemented projects in more than 25 countries throughout Southeast Asia, Africa, India and the Pacific and has offices in Laos, Myanmar, Singapore and Hong Kong. www.sunlabob.com
About Australia and New Zealand Banking Group (ANZ)
ANZ Bank (Lao) Limited is a subsidiary of ANZ Banking Group. ANZ began operating as ANZ Vientiane Commercial Bank Ltd in September 2007 with the purchase of a majority shareholding in the Vientiane Commercial Bank Ltd, a privately owned bank that had been operating in Laos for 14 years. ANZ moved to 100% ownership in August 2010.
The companys history dates back over 175 years and currently has customers, shareholders and communities in 34 countries in Australia, New Zealand, throughout Asia and the Pacific, and in the Middle East, Europe and America.
Featured Product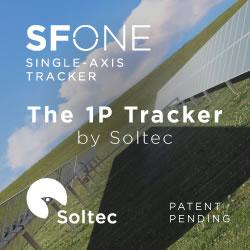 Soltec manufactures and supplies solar trackers designed and proven for extreme climate conditions, which is an ideal solution for any region's environment. Soltec's trackers are self-powered, requiring no additional PV module or grid-powered connection. Bifacial modules collect energy on both the front and rear sides, capturing reflected irradiance from the ground surface under and around the tracker and from other modules. Depending on site conditions, bifacial yield-gain can reach +30 percent.