Black & Veatch gives glowing report on ViZn Energy Systems
AUSTIN, Texas - ViZn Energy Systems Inc. (ViZn), a leading provider of energy storage systems for utility and microgrid applications, as part of its ongoing commitment and comprehensive approach to transparency, quality and reliability, selected and hired the world-leading engineering, construction and consulting firm Black & Veatch to conduct an independent assessment of its Z20 and GS200 Redox Flow Energy Storage Systems. In the process, Black & Veatch methodically reviewed documents and test results, visited the facilities of both ViZn and its manufacturing partner Jabil, and reviewed the performance of ViZn's energy storage technology.

In its assessment of ViZn's Z20 and GS200 flow batteries, Black & Veatch stated that it believes:
• The ViZn batteries outperform systems with lithium-based chemistries at high ambient temperatures due to the fact that the ViZn energy storage systems perform well at high ambient temperature without any HVAC load.
• Jabil's vendor qualification and monitoring process is well established and should be able to ensure quality materials and components for ViZn's products.
• ViZn's zinc-iron redox storage technology is designed and manufactured for large scale energy storage applications. Key differentiators from other flow battery technologies are: safety and non-flammability of the electrolytes and chemistry, abundance of core raw materials, a 20-year expected system life, an HVAC system is not required to operate at high ambient temperatures, and ViZn's battery life and warranty are independent of the duty cycle imposed on the system.
• ViZn's senior management team has experience in the manufacturing commercialization of novel products in the energy industry and appears to have the skills required to manage ViZn.
"The results of Black & Veatch's assessment are consistent with our own internal test results for performance and longevity and, in some cases, exceeded our expectations," said Ron Van Dell, President and CEO of ViZn Energy Systems. "We've dedicated an extensive amount of R&D to continuously improve our batteries which, we believe, has resulted in the best value energy storage technology on the market."
ViZn sought Black & Veatch's expertise in conducting the independent assessment to demonstrate bankability and ensure project financing of ViZn systems. Black & Veatch's comprehensive assessment evaluated the design, performance, and manufacturing of ViZn's Z20 and GS200 flow batteries and assessed ViZn as a company. ViZn is happy to share the report with interested parties upon request.
ViZn's flow batteries are designed with the customer in mind, which is why the company has built in both high-power and long-duration capabilities, low O&M and a 20-year operating life, allowing end users to incorporate multiple value streams and realize more favorable payback periods than other energy storage technologies on the market. ViZn is currently building the largest flow battery in North America and is on track to be the largest global producer of flow batteries by the end of the year.
About ViZn Energy Systems, Inc.
ViZn Energy Systems, Inc. is comprised of a visionary team of scientists, engineers and business leaders who are passionate about creating and commercializing a revolutionary energy storage solution for the commercial & industrial, microgrid and utility-scale markets. Founded in 2009 and based on eight previous years of research, ViZn is commercializing highly scalable energy storage systems, ranging from tens of kilowatts to mega-watt storage. The ViZn solution is safe, reliable, cost effective, and scalable to meet the needs of today's ever-changing energy landscape. For more information, visit: www.ViZnEnergy.com
Featured Product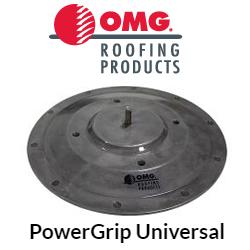 Eliminate Solar Rack Ballast and Reduce Rooftop Material Handling. PowerGrip™ Universal (PGU) is a commercial roof mount system designed to secure solar racks and other equipment to any type of commercial roofing system. PGU provides a secure connection directly to the roof deck or structural members and is designed to reduce or eliminate ballast in solar racking systems, so there's less weight on the roof and less material handling. Made of heavy-duty cast aluminum, PGU units include a base ring which is secured through the roofing cover and into the structural roof deck, and a waterproof top plate.