Natural Power helps to secure planing approval for Dumfries and Galloway wind farm.
The Galloway-based team at Natural Power has helped to secure planning approval for Crossdykes Wind Farm in Annandale by Dumfries and Galloway councillors, who have given their unanimous backing to the proposal by Muirhall Energy.

Euan Hutchison, Natural Powers Principal Consultant of Planning and Development Services, who delivered the planning design statement for Muirhall Energy, said: "We played a small but important role in the project, where our local knowledge and expertise in this area was a key strength."
Located between Lockerbie and Langholm, the proposed wind farm comprises 15 turbines, each with a generating capacity of 3.2MW (48MW in total) and a blade tip height of 130m.
Alastair Yule, Senior Development Manager, Muirhall Energy, said: "There was considerable support from a number of community councils for our proposals, as well as from other local groups and organisations, and we would like to thank them for this. Their support was clearly reflected in the decision by councillors.
"We were delighted to be able to work with the global firm Natural Power right on the door step of its HQ in Dumfries and Galloway. They are a fantastic team with strong local knowledge, and the quality of work produced was of a really high standard."
In addition to a community benefit package of £240,000 per annum (£5,000 per MW), to be shared by local communities, the developer has offered an equity share of up to 10% in the project which a number of community groups are currently exploring.
It is anticipated that approximately £30 million will be spent in the region over the 25 year lifetime of the wind farm, with an estimated value of contracts of £7.6 million during the construction period, and a community investment totalling some £6 million.
Featured Product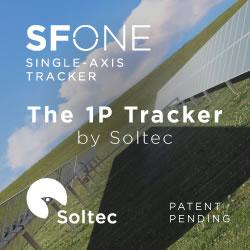 Soltec manufactures and supplies solar trackers designed and proven for extreme climate conditions, which is an ideal solution for any region's environment. Soltec's trackers are self-powered, requiring no additional PV module or grid-powered connection. Bifacial modules collect energy on both the front and rear sides, capturing reflected irradiance from the ground surface under and around the tracker and from other modules. Depending on site conditions, bifacial yield-gain can reach +30 percent.