Drive Solar solves one of the most significant post-purchase inconveniences of driving an EV: installing a residential charging station.
VENICE, Calif., June 15, 2016 /PRNewswire/ -- PlugShare, the maker of the number one ranked electric vehicle (EV) charging station locator app, today announced the California statewide launch of "Drive Solar," a first-of-its-kind program that now provides eligible PlugShare community members in the state with a free home EV charging station plus free station installation when they go solar with Sungevity.1

Drive Solar solves one of the most significant post-purchase inconveniences of driving an EV: installing a residential charging station. After accounting for the cost of the charging station, electrician labor, shipping, permitting, materials and a potential panel upgrade, installing a home charging station can cost an EV driver upwards of $2,100.2 "Drive Solar" capitalizes on the operational efficiencies that emerge when the electrical work for the EV charging station is accomplished during the residential solar system installation process. The program simplifies life for the homeowner, combining two projects into one.
Plus, through PlugShare's program, EV drivers enjoy the installation of a GE WattStation™ at home, which serves as a major upgrade over the standard wall outlet adapter that comes with an EV. The GE WattStation™ is a best-in-class charging station from a globally-respected manufacturer that can deliver up to 20 miles of range for each hour of charging. For comparison, a standard 120V wall outlet only delivers 2 to 5 miles of range per hour of charging.3
"At PlugShare we create programs that offer our community value and break down the barriers to EV adoption," said COO Forrest North. "We designed the Drive Solar program to help EV drivers in California get Level 2 charging at home while incentivizing the cleanest form of transit, solar-powered driving."
Recently, Tesla grabbed headlines when it announced in early April that it had received 325,000 pre-orders for its eagerly anticipated Model 3, claiming the biggest one-week launch of any product ever.4 Having received strong interest from Tesla drivers, PlugShare further refined Drive Solar to cater to aspiring Model 3 owners and current Model S/X drivers by offering them free installation of a 240V NEMA 14-50 outlet and 50A breaker to get the most out of their 10 kW Tesla Mobile Connector.
PlugShare has chosen Sungevity, Inc. as the solar provider for the program. Sungevity has already made great strides reducing the inconvenience of going green by leveraging proprietary remote solar design technology to deliver an accurate solar quote without requiring homeowners to schedule a home visit. Sungevity's green credentials are recognized throughout the industry, having been endorsed by the Sierra Club® and other esteemed environmental organizations.
"Our 'Drive Solar' program is a natural fit for two companies that take pride in making their customers' lives easier," said Kelly Griswold, Sungevity's Vice President of Business Development. "Furthermore, we know from recent studies that EV ownership can be a stepping stone to adopting home solar. Offering a complimentary charging station plus the installation of that station with a solar system agreement is a very attractive package that saves the customer both time and money."
The statewide launch of the "Drive Solar" partnership builds on the success of a Bay Area pilot program deployed last fall. The solar energy systems installed in the pilot are expected to offset the equivalent of over 8.4 million gasoline driven miles,5 in addition to giving PlugShare users more control over the power supply of their vehicles and the cost of their home energy bills.
According to PlugInsights, PlugShare's consumer research division, about 12% of drivers who acquired an electric vehicle in 2015 had rooftop solar,6 which is many times higher than the national household solar rate that is below 1%.7 The number suggests that the fast-growing electric vehicle market presents a budding new opportunity for residential solar installers to grow market penetration while reducing customer acquisition costs.
For more information on the Drive Solar program, visit plugshare.com/drivesolar.
About PlugShare
PlugShare provides the #1 ranked EV charging station locator app, supporting and empowering a community of over 160,000 plug-in drivers. The PlugShare app hosts the most accurate and complete charging station map in North America with over 40,000 charging sites. PlugShare's mission is to support the adoption and growth of plug-in car technology to help bring about a sustainable transportation future.
About Sungevity
Sungevity is a technology-driven solar energy company focused on making it easy and affordable for homeowners and business owners in the US and Europe to benefit from solar power. Leveraging proprietary remote solar design technology, Sungevity can deliver a quote without a site visit and provide prospective customers with visibility to potential savings on their electricity bills. The company continues to grow its customer base and now services 13 U.S. states, the District of Columbia, the Netherlands, the UK and Germany. Sungevity is also the residential solar partner to Lowe's, and was recognized in 2015 by B Corp as one of the "Best for the World 2014" companies for environmental impact. For more information, visit www.sungevity.com.
Featured Product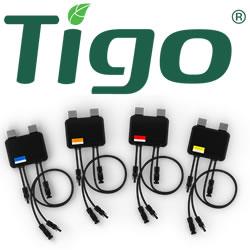 Tigo will announce the new product launch of the patented UHD-Core TS4-A (Advanced Retrofit/Add-on) Platform at SPI 2019. The new TS4-A-M (Monitoring) & TS4-A-S (Safety) units have improved lightweight hardware and lower labor costs to address a range of functions and budgets. The TS4-A-M allows module-level monitoring via Tigo's SMART Website & App. The TS4-A-S is UL-certified as a rapid shutdown solution for residential and C&I PV system. Both units join the Tigo's multivendor solution that works with almost any inverter and smart module in the global PV market. Contact sales@tigoenergy.com for pricing, shipping, and availability in Q4'19.