• More than 1,000 scientific presentations from 90 countries • Solar PV has become a key energy technology, with 100 GW installed in Europe • Technology and market innovations for PV after Paris COP 21
Munich, 21 June, 2016 - The EU PVSEC 2016 - the 32nd edition of the European Photovoltaic Solar Energy Conference and Exhibition opened its doors on Monday, 20 June 2016 in Munich, and is ready to welcome the global PV business and research community. EU PVSEC 2016, taking place from 20 to 24 June 2016 at ICM - International Congress Center, in Munich, Germany, in co-location with Intersolar Europe at Venue Messe München. The EU PVSEC 2016 offers the opportunity to join the world's top-ranking PV scientists, engineers and industry leaders to present and discuss the future PV technologies and applications

The EU PVSEC 2016 conference started on Monday at 8.30 am with three keynote scientific papers. Highlights are announcements about result for One-Sun Minimodules and Efficient Concentrator Submodules as well as new innovative approaches to Interconnect Back-Contact Cells.
The following political opening ceremony was chaired by Conference General Chair Professor Marko Topič, Head of the Laboratory of Photovoltaics and Optoelectronics of the University of Ljubljana and Chairman of the European Technology & Innovation Platform Photovoltaics. Professor Topič stated during his opening speech: "Photovoltaics reached competitiveness, booms in deployment and there is vast potential for further improvement. As reflected from the EU-PVSEC conference programme it is the progress in innovation-driven science and engineering that assures PV to head to the centre-stage in the power system. The PV sector is committed to contribute to the climate change mitigation and to a sustainable powering of the globe".
Giovanni De Santi, Director Institute for Energy and Transport JRC, European Commission, underlined during the opening of the EU PVSEC the commitment of the European Commission, driven by the COP 21 agreement, to deliver on the European Energy Union Strategy. He explained the ongoing legislative development regarding energy markets, energy efficiency and new Renewable Energy Directive. Also, as an innovative drive, the Strategic Energy Technology plan takes now momentum with agreed targets and the commitments of the member states. Giovanni De Santi invited the audience to applaud the European PV Community, to have reached 100 GW of PV installations.
Claude Turmes, Member of the European Parliament; ITRE Committee and EUFORES President, Luxembourg, stated in his presentation: "Don't cap renewables: Policy makers in Europe and elsewhere should not "cap" investments in solar energy / electricity from solar is now fed into the grid or together with batteries so cheap that there is no excuse to delay massive rollout - for the benefits of people who do not yet have access to energy, for the benefit of keeping this planet a place where we prevent dangerous climate change.
Paolo Frankl, Head of Renewable Energy Division, International Energy Agency, France, moderated the panel with the topic: "Technology and Market Innovations for PV after Paris COP 21". Paolo Frankl concluded the panel with the comments: "2015 was a record year for solar PV and the Paris Agreement was an historic milestone. However there is no space for complacency. Low fossil fuel prices and overcapacities create complex trade-offs in many countries. Governments need to maintain a long-term vision and create appropriate market and regulatory frameworks enabling a continued, rapid and sustainable growth of the PV sector globally and in Europe".
EU PVSEC Technical Programme Chair, Dr. Nigel Taylor, European Commission, DG Joint Research Centre:" It's pretty much undisputed now that photovoltaics will have a major role in our future energy system. Again this year EUPVSEC is the world's largest photovoltaic scientific conference, offering over 1,000 oral and visual presentations spread over the seven core topics, and with contributors from 90 countries. The European Commission Joint Research Centre is pleased to contribute as a neutral broker by organising the scientific programme and ensuring a platform for scientific exchange and knowledge transfer between science, industry and business, at a time where energy and climate are high on the EU's and the international agenda".
European Becquerel Prize for Outstanding Merits in Photovoltaics
The panel discussion was followed by the presentation of the European Becquerel Prize for Outstanding Merits in Photovoltaics. The European Becquerel Prize for Outstanding Merits in Photovoltaics is being awarded on the occasion of the EU PVSEC Conference. This prize was established by the European Commission in 1989 to mark the 150th anniversary of Alexandre-Edmond Becquerels discovery of the photovoltaic effect in 1839, which laid the foundation of both, photovoltaics and photography. Winner of the Becquerel Prize 2016 is Prof. Christophe Ballif, Director EPFL "Photovoltaics and Thin Film Electronics Laboratory" and "CSEM PV- Center", Neuchatel, Switzerland.
EU PVSEC Background
EU PVSEC takes place at different venues in Europe since 1977. The event uniquely combines scientific, technological, industrial and application-related issues from the perspective of research and development, industry and politics. With more than 1,000 keynote, plenary, oral and visual presentations, and presentations in several workshops, expert panels and specific industry fora, the EU PVSEC counts as the most outstanding PV science-to-science and science-to-industry platform. The EU PVSEC conference program is coordinated by the European Commission, DG Joint Research Centre.
www.photovoltaic-conference.com/
Featured Product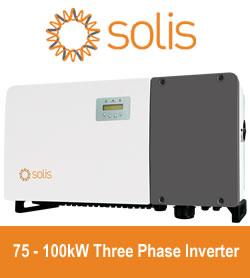 Solis75kW - 100kW series high-power string inverters are widely used in industrial and commercial rooftops. Solis's new three-phase string inverter is the first choice for industrial and commercial photovoltaics. 75-100kW three phase series string inverter have Maximum 28 strings input, support "Y" type connection in DC side. Maximum string input current 13A, support bifacial modules access.Supports anti-PID function to improve system efficiency.