Americas #1 solar monitoring provider in the C&I markets offers the industrys most comprehensive solutions for utility-scale PV.
Boulder, CO - July 6, 2016

Over the past 5 years utility-scale PV has been the fastest-growing solar power market in the US. AlsoEnergy, the leading solar monitoring provider for commercial and industrial markets in the US, has gradually added new products and features aimed at this market. This includes PowerApp, AlsoEnergys full featured stand-alone PV desktop application, along with their PV Power Plant Controller and PV Historian. Today Americas top selling Independent Software Vendor for solar monitoring offers the industrys most comprehensive solutions to monitor and control utility-scale PV projects.
Utility-scale installations require expert planning and custom engineering to meet project specs and satisfy local utilities and regulators. AlsoEnergy has developed specialized products and features to meet these needs:
• PowerApp: PowerApp is an alternative to browser-based software platforms. This application provides a secure, full featured analytic platform that runs on the desktop.
• PV Power Plant Controller: The AlsoEnergy Power Plant Controller offers full functionality. This includes power ramping, power curtailment, voltage control, device on/off, and more.
• PV Historian: This device allows users to store and host data locally, accommodating secure locations where an internet access is restricted or unavailable.
AlsoEnergy offers products that cover specific PV needs that commonly appear in utility-scale project specs:
• CAISO Telemetry: AlsoEnergy is a CAISO approved RIG vendor. Expert project planning ensures that clients meet their site synchronization date based on CAISO bucket scheduling.
• NERC CIP Compliance: AlsoEnergy can deliver for utility-scale clients with NERC CIP compliance requirements.
Additionally, AlsoEnergy offers software features specialized for utility-scale PV client needs:
• Automated Capacity Testing: Capacity Tests provide updated benchmark performance levels that detect and account for system degradation, offering persistent commissioning for PV systems.
• Customized Stakeholder and Agency Reports: Clients save time with automated reports customized to the needs and permissions of all recipients.
AlsoEnergy gains in the utility scale market have been documented in the Global PV Monitoring 2016-2020 report published by GTM Research. This report is authored by Cedric Brehaut, Executive Consultant and founder of SoliChamba Consulting. "AlsoEnergy continues to build market share in a rapidly growing solar PV monitoring market," said Brehaut. "They have maintained regional market leadership in the commercial and industrial segments, while approximately doubling their monitored capacity in the utility segment in 2015."
AlsoEnergy completed work on many noteworthy utility scale projects over the past year, including sites as large as 84 MW with a variety of control needs.
"Our efforts in the utility scale market follow the same strategy that has made us the #1 overall monitoring vendor in the C&I solar market" said AlsoEnergy CEO Robert Schaefer. "AlsoEnergy will continue to invest in new technology and product development so we can meet the evolving needs of our clients."
About AlsoEnergy
AlsoEnergy is a software company that provides monitoring and SCADA solutions for solar PV projects and other energy systems. They work with top-tier investors and developers to monitor over 5 GW of power spread across more than 14,000 sites worldwide. As an independent provider, AlsoEnergy is uniquely well positioned to provide fully compatible service for diverse portfolios, and to integrate with evolving technology in the years to come. AlsoEnergy provides 2 industry-leading software platforms: PowerTrack™ and DECK Monitoring.
For more information, visit: www.alsoenergy.com
Featured Product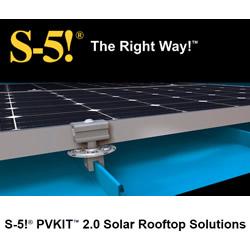 The concept of combining PV arrays with standing seam metal roofing is growing-for good reasons. Metal roofs have a life expectancy of more than 40 years. Shouldn't the mounting system last as long? With S-5! zero-penetration attachment technology and PVKIT 2.0, the solarized metal roof is the most sustainable system available -and without compromising roof warranties! PVKIT 2.0 is the also the best solution for attaching PV modules directly to any exposed fastener metal roof.