New product to save installation costs will appear at Intersolar North America
HILLSBORO, Ore., July 7, 2016 - SolarWorld, the largest crystalline-silicon solar manufacturer in the Americas for more than 40 years, announced today that it will release a 1,500-volt solar panel in time for this years fourth-quarter peak selling season.

The company will exhibit the new 72-cell XL product at SolarWorlds Booth 7411 at Intersolar North America from July 12 to 14 in San Francisco.
The 1,500-volt technology, compared with standard 1,000-volt solar panels, enables installers to increase lengths of solar-panel strings by up to 50 percent, thereby requiring fewer combiner boxes, less wiring and trenching and lower labor costs. Analysts have estimated the cost savings at up to 5 cents per watt installed.
The technologys application is ideal for large commercial and utility-scale designs. Unlike competitors, SolarWorld has not needed to increase the size of its 72-cell solar panel to reach the 1500-volt standard. The new solar panel is certified to UL1703; it is free of potential induced degradation (PID), as per IEC 62804-1:2015.
"SolarWorld does whatever it can to help its installation partners lower their costs and increase profits," said Mukesh Dulani, U.S. president of SolarWorld. "This new product maximizes the benefits of our 72-cell solar panel design without having to alter its size. It represents just the latest development in our long track record of achieving innovations that serve the market. Our customers want this option, so therefore we are bringing it to market."
The company is taking orders for the 1,500-volt module for delivery starting in October.
About SolarWorld REAL VALUE: SolarWorld manufactures and sells high-tech solar power solutions and in doing so contributes to a cleaner energy supply worldwide. The group, headquartered in Bonn, Germany, employs 3,820 people and operates facilities in Freiberg, Germany; Arnstadt, Germany; and Hillsboro, Oregon, USA as well as in a joint venture with Qatar Solar Technologies. From raw material silicon to solar wafers, cells and modules, SolarWorld manages all stages of production ‒ including research and development in its own company, SolarWorld Innovations. Through an international distribution network with locations in Europe, USA, Singapore, Japan, South Africa and Qatar, SolarWorld supplies customers all over the world. The company upholds high social standards and commits itself to resource- and energy-efficient production. SolarWorld was founded in 1998 and has been publicly traded on the stock market since 1999. Connect with SolarWorld on Facebook, Twitter and www.solarworld.com.
Featured Product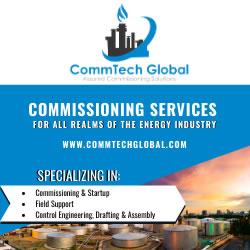 CommTech Global Solutions, LLC, provides professional and reliable commissioning services to customers in all realms of the energy industry. We blend our skills in engineering and technology with innovative business models, offering a complete range of services to assist you for a successful and in compliance operational startup. Consolidation of all our service domains gives our clients a comprehensive set of expertise and far-reaching experience on each project.