New PV design software: meteodyn PV
Nantes, July the 8th, 2015 - Meteodyn, world expert in wind resource assessment and wind farm design, has developed a solar PV software. meteodyn PV is now available to all solar plants developers, operators, engineers and consultants. This professional software is dedicated to large scale solar projects.

Meteodyn PV software assess solar resource and production to analyze site suitability. meteodyn PV computes production and losses assessment based on meteorological analysis tool and detailed shading to design the best PV system layout.
The software can compute over very large domains, whatever can be the terrain, panels or obstacles. We have chosen to develop a professional software, easy to use, with strong computation capacity and with advanced 3D modeling to visualize projects and help even more to make decisions.
We enter the solar energy market with a comprehensive solar solution. We compute solar energy for urban PV projects. We provide solar production forecast services with horizons of a few minutes to a few days.
Solar plants developers and solar project engineers need bankable and reliable solar resource data, detailed production assessment to validate and run projects (financing, technical and operating steps). Meteodyn provides software and consulting services to make your Renewables projects successful.
For the first time, Meteodyn will attend to solar energy events
- Intersolar Brazil: August 23-25, 2016 in Sao Paulo
Booth D54
- Solar Power International: September 12-15, 2016 in Las Vegas
Booth 529
About Meteodyn
Meteodyn is an international leading expert in wind engineering, CFD software and climatology. The company develops wind and solar modelling software and provides consulting services: wind/solar resource and production assessment, wind/solar production forecast for power grid management, site suitability analysis, wind/solar farm layout design, site optimization and O&M solutions, bankable reports and custom software developments.
Meteodyn has headquarters in Nantes (France), subsidiaries in Beijing (China) and Philadelphia (USA) and Pune (India).
For more information: http://meteodyn.com
Featured Product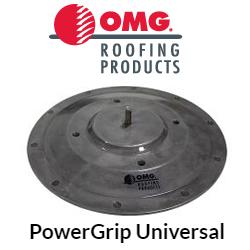 PowerGrip Plus Roof Mount System, a watertight structural attachment system used to secure ballasted solar racks and other equipment to roofs covered with thermoplastic (TPO and PVC) membranes. PowerGrip Plus is designed with wind performance in mind and offers ultimate tensile strength of 2,000 lbf. and ultimate shear strength of 1,075 lbf. Properly installed PowerGrip Plus units reduce rack movement and remaining watertight. PowerGrip Plus units are easy to install, saving both time and labor when compared to alternative options. A wide membrane skirt promotes easy welding in place, and the 15/8 diameter and 1/2 inch tall mount provides an optimal perch for securing brackets or struts. The exposed 1 inch tall and 3/8 inch diameter bolt and mounting stand are made from corrosion-resistant stainless steel and aluminum alloy for superior long-term performance.