Combining a revolutionary racking system with its widely-deployed and versatile ground-screw foundation, TerraSmarts TF2 system offers customers an additional 30 percent in cost reductions on installation
San Francisco—July 13, 2016—TerraSmart, the industry leader in turnkey solar mounting, unveiled its revolutionary TF2 fixed-tilt ground-mount racking system today at Intersolar North America taking place July 12-14, 2016 in San Francisco.

The next -generation TF2 racking system combines a revolutionary racking system with the widely deployed and versatile TerraSmart ground-screw foundation, making it the go-to racking solution for whatever difficult soil conditions an installer faces. In addition, TerraSmarts TF2 racking solution offers installers an additional 30 percent in cost reductions on foundation installations. View the product video here: https://youtu.be/ajzL8rlWgq4
"The TF2 allows me to meet more aggressive construction schedules because of its ability to work on any surface and its ease of installation," said Chris Perron, Vice President, EPC at Nexamp. "Regardless of a project site's subsurface conditions, I know I can go with the TF2 and be able to deliver a project on time and on budget. TerraSmart's integrated project management team and solutions have been critical to our ability to successfully execute on a growing pipeline of development and third party EPC projects with short construction durations."
TerraSmarts innovative engineers designed the TF2 with installers in mind, incorporating the most sought-after features culled from customer feedback over six years and 1 gigawatt of installed capacity. As a result, the TF2 provides customers with the most efficient racking system on the market. Features of the TF2 include:
● Faster installation times with 66 percent less hardware than TerraSmarts previous rack and far fewer than its competitors offerings, as well as integrated electrical bonding 

● Integrated wire management: TF2s Smart-C accommodates cables to provide hassle-free wire management.
● Simplified hardware stack: Threaded inserts and two-part hardware stacks make connecting TF2 components easier and quicker than ever.
● Lighter design: The TF2s lighter yet stiffer components make it safer and easier to handle onsite and enables more economical shipping.
● The TF2 has passed the exacting standards of UL 2703 Edition 1, complies with the NEC and has undergone wind-tunnel tests. 

"Our new TF2 rack builds upon years of proven installation success on hilly, undulating terrain to accelerate project timelines and reduce project costs," said Ryan Reid, TerraSmart founder and president. "With slope capabilities up to 36 percent, the TF2 minimizes pre-construction civil work and potential delays frequently encountered while excavating previously untouched soils. We provide our customers with the design, engineering, manufacturing and installation support to ensure that they get more value from their rack."
TerraSmarts market-leading installation machinery provides a more precisely installed foundation combined with state-of-the-art surveying, rock drilling, and installation equipment to remove project risks and increases installation speeds.
The companys innovative ground screw foundation and racking systems have transformed the solar industry by minimizing project risks, ensuring successful installation in all soil types, and offering the most cost effective solution.
About TerraSmart
TerraSmart is North Americas leader in solar racking, engineering, design and manufacturing of turnkey, ground mount racking solutions for commercial to utility-scale solar projects. With decades of experience in structural engineering and aluminum and steel fabrication and more than 1 gigawatt installed, TerraSmart delivers the most technologically advanced solar racking solutions in the industry.
TerraSmarts innovative ground screw foundation and racking systems have transformed the solar industry by minimizing project risks, ensuring successful installation in all soil types, and offering the most cost effective solutions. For more information, please visit: www.TerraSmart.com
Featured Product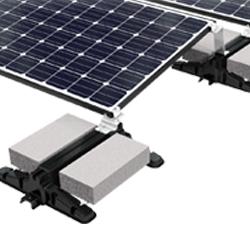 Preformed Line Products introduces the POWER MAX Ballasted Roof Mounting System. The POWER MAX solar mounting system is engineered to maximize energy output on commercial flat roofs. Developed with the professional installer in mind, this system offers adjustable inter-row spacing in the field of up to 11 inches. It features 50% fewer components and a simplified design resulting in faster assembly rates and labor savings on every project. Available in a flush mount, 5˚ or 10˚ tilt or higher density dual tilt design, the POWER MAX base arrives stacked on pallets providing easier transport to the roof. Engineered as a fully ballasted, non-penetrating system, it accepts standard concrete blocks and is qualified by wind tunnel testing.