• Thrive Renewables first bond offer completed in just under four weeks • Record-breaking year for the renewable energy company 
• Second fastest bond offer to reach target on Ethex
Investors have demonstrated their confidence in renewable energy by embracing Thrive Renewables groups first ever bond offer which closed in record time. Thrive Renewables (Buchan) as a subsidiary of Thrive Renewables plc, issued the 5.5% annual return bonds with the bonds available to be bought on the positive investment and savings platform, Ethex. With successful completion in reaching its target raise of £3 million in just under four weeks, this is the second fastest bond offer to close in Ethexs history.

Within the first week of going live to existing shareholders, the offer had received almost half of its funding target. The bond had a £250 minimum investment with 5.5% annual return over a five year period and appeared to be warmly welcomed by the investor community. The investment was secured against two existing and generating wind farms in Strichen, Scotland, and as part of its community initiatives, Thrive Renewables made the bond available to the local public as part of the pre-general release.
One of Thrive Renewables bondholders, Herbert Eppel said:
"There can be no doubt that being part of the emerging British community energy revolution gives a sense of empowerment, and that "bottom-up" energy projects will play an increasingly important role in the future. The Thrive Renewables (Buchan) bond offer was a perfect opportunity to add to my growing community energy portfolio."
Lisa Ashford, CEO of Ethex commented:
"Thrive Renewables completed their £3 million raise in record-breaking time. Despite subsidy cuts, it is good to see that there is still a groundswell of support for renewable energy projects. It was a strong offer and attracted investors right across the UK."
Thrive Renewables has a strong investor community which now includes 418 bond holders, of which 100 with an average investment of £6,900 per holder. Investors were drawn from all areas and ages ranging from 24 to 90 years showing the diversity of Thrive Renewables community. Despite the withdraw of Government subsidies for renewable energy, the success of this bond offer is testament to Thrive Renewables approach of investing in solid portfolios honed over a 20 year history.
Matthew Clayton, Managing Director of Thrive Renewables added:
"Im absolutely delighted with the result of our first ever bond offer which is the fastest fund raise in our history. It is reassuring that investor confidence in solid assets offering environmental and financial rewards remains strong. Thrive Renewables is pleased that offering an additional way for individuals to directly contribute to cleaning up the UKs energy system has been so successful. We can put the funds released to work as we continue to grow, adding to our renewable generation capacity."
Building on the success of Thrives recently published annual results, 2015 has been a record- breaking year for the company, with a 16% growth in investor numbers and revenue was up 22% to £15 million. Generation capacity also rose to 169,485MWh of renewable energy with increased impact equivalent to 72,876 tonnes of CO2 saved (up 26% on last year).
To find out how you can become an investor or to develop a project with Thrive Renewables, visit www.thriverenewables.co.uk for more information and to sign up to their quarterly newsletter.
Thrive Renewables
Thrive Renewables (previously known as Triodos Renewables) is a renewable energy company. We invest in, and operate projects that generate clean, green electricity and work with many leading companies in the sustainable energy sector. Our shareholders are part of a growing movement to tackle climate change - one that achieves tangible results. We have over 20 years' investment and operational experience in renewable energy projects, with 5,600 shareholders and a portfolio of 15 renewable energy projects in the wind and hydro-electric sectors. Collectively, our sites produce enough green electricity to power more than 40,000 UK homes each year. From the Orkney Islands to Bristol, we're generating clean energy that benefits the UK. www.thriverenewables.co.uk | 01179 809 717
Ethex
Ethex brings together on one platform the best positive savings and investment opportunities to make it easy to make money do good. On our platform, you can browse, compare and invest in a range of products from bank accounts and ISAs to equity investments and charity bonds that offer a social and environmental as well as a financial return. Through Ethex you can invest and save with businesses you believe in and these positive businesses can then find the investment they need to develop and grow. Since 2013, Ethex has helped raise over £40 million of investment in 40+ charities, social businesses and community organisations. www.ethex.org.uk | 01865 403304 | help@ethex.org.uk
Featured Product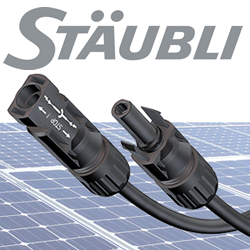 ​Stäubli Electrical Connectors are used on more than 300 GW, over 50% of the PV capacity worldwide. The MC4 family of UL and TUV listed products include connectors, in-line fuses, branch connectors, cable assembly and more.