Global grid-connected energy storage capacity will surge to 21 GWh by 2025
LONDON (July 28, 2015) - The global energy storage market is expected to double, from 1.4 gigawatt hour (GWh) added in 2015 to 2.9 GWh this year, offering unique growth prospects for many energy companies as global energy markets continue to cool. Global grid-connected energy storage capacity will surge to 21 GWh by 2025, according to IHS Markit (Nasdaq: INFO), a world leader in critical information, analytics and solutions. Over the next decade, Lithium-ion (Li-ion) batteries will become the mainstream energy-storage technology, and more than 80 percent of global energy storage installations will include the technology by 2025.

"Energy storage is set to grow as fast as solar photovoltaic energy has in recent years, sparking strong interest from a wide range of players and underscored by recent mergers and acquisitions among car manufacturers, major oil and gas companies, and conventional power suppliers," said Marianne Boust, principal analyst, IHS Markit. "The United States and Japan are leading the way, but were also seeing activity in South Africa, Kenya, the Phillippines and other countries, as the cost of batteries continues to decline."
According to the IHS Markit Grid-Connected Energy Storage Forecast Database, Japan and the United States will be the largest energy storage markets, generating a third of market revenues totaling $50 billion over the next decade. In Australia and Japan, energy storage penetration is expected to exceed 5 percent of installed power capacity in 2025, underscoring the growing role that energy storage will play in grid stability, renewable integration and overall energy management.
Half of all energy storage installations will occur behind the meter, driven by self-consumption and back-up needs. Eight countries will each have cumulative behind-the-meter storage power exceeding 1 GWh, including Japan, China and the United States. "Looking ahead to the future, half of all energy storage will come from households and businesses seeking to control their energy consumption, which will massively disrupt the traditional business models from established utilities and large equipment manufacturers," Boust said.
The IHS Markit Grid-Connected Energy Storage Forecast Database includes global grid-connected energy storage forecasts, as well as data and forecasts for all key market segments and regions. For information about purchasing this report, contact Global_Leads@ihs.com.
####
About IHS Markit (www.ihsmarkit.com)
IHS Markit (Nasdaq: INFO) is a world leader in critical information, analytics and solutions for the major industries and markets that drive economies worldwide. The company delivers next-generation information, analytics and solutions to customers in business, finance and government, improving their operational efficiency and providing deep insights that lead to well-informed, confident decisions. IHS Markit has more than 50,000 key business and government customers, including 80 percent of the Fortune Global 500 and the worlds leading financial institutions. Headquartered in London, IHS Markit is committed to sustainable, profitable growth.
Featured Product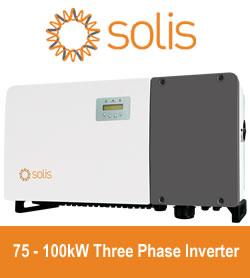 Solis75kW - 100kW series high-power string inverters are widely used in industrial and commercial rooftops. Solis's new three-phase string inverter is the first choice for industrial and commercial photovoltaics. 75-100kW three phase series string inverter have Maximum 28 strings input, support "Y" type connection in DC side. Maximum string input current 13A, support bifacial modules access.Supports anti-PID function to improve system efficiency.