KAHULUI, MAUI, HAWAII: Award winning technology innovator HNu Photonics celebrated its 10th Anniversary earlier this year. Founder and CEO Dan O'Connell made a keynote address summarizing the firm's many achievements over its first decade.
"Ten years ago I took a leap of faith," OConnell said. "I formed a company to realize a dream: A place to create a better world for future generations through innovative technology and creative engineering; A place where talented, dedicated people could collaborate to develop technologies and products that have never existed before."

HNU PHOTONICS
Commenting on HNu Photonics, OConnell continued as follows: "We have come a long way from those early days in my garage to our current research and development campus in central Kahului, but our focus remains on Life Transforming Technologies:
---SCORPIO - will change the face of medicine by enabling medical research in space.
---FLASH - will change the way we see the world, our oceans and our solar system.
---nanoPOINT - will cure cancer, Alzheimer's, and many other debilitating diseases.
---SPARTA - will enable us to see in the dark, through fire, haze, smoke, and fog.
---CMO - will allow researchers to see molecules in their true living state.
---OMEGA - will enable 100% clean solar energy by storing it with 98% efficiency.
HNu is building these and other transcendent technologies to bring health back into our lives and back into the environment.
Based on - and driven by - INNOVATION, HNu PHOTONICS is now developing:
*An intricate biomedical platform for the International Space Station
*Laser ranging and communication telescopes that will track satellites with unprecedented speed and accuracy
*An entirely new manufacturing process to do what no other producer has the capability to do - to make specialized optical windows for helicopters and other aircraft
*A revolutionary microscope capability that will enable imaging never before possible."
HNU ENERGY
Turning to another HNu core area, OConnell continued "Solar Energy is no longer the exotic, experimental power source it was 30 years ago. It is now providing enormous quantities of clean, renewable energy in many developed and underdeveloped countries around the globe.
---There is more solar energy that falls on the earths surface every hour than the total annual energy consumption of all the worlds people.
---All the energy in the earths reserves of coal, oil, and natural gas equal just 20 days of energy produced by the sun - but only 1% of that solar energy is used to generate power.
Based on - and driven by - INNOVATION, HNU ENERGY is currently working on:
*The most complex distributed energy systems in Hawaii - all completely remote controlled
*Designing, building and installing our own in-house design state-of-the-art SCADA systems
*Developing unique, patent pending solar panel racking systems
*Implementing innovative electrical interconnections throughout Hawaii.
*Developing the most advanced integrated battery capability that significantly out performs every alternative."
HNU PEOPLE
Saving his favorite topic for last, OConnell concluded "This track record of extraordinary achievement is unmatched in Hawaii and reflects countless efforts of an exemplary team of talented people. Great people are committed to a great cause and a great future. At HNu, we are building:
*The future of clean energy
*The future of smart personalized medical tools
*Optical manufacturing facilities that will open a new era of optical technologies and products
The HNu team sees challenge as an opportunity. They share a commitment to excellence. It's an honor for me to stand here and to be part of this great company working with so many passionate, talented and caring people".
HNu Photonics (www.hnuphotonics.com) is a broadly diversified, vertically integrated science and technology company, dedicated to creating highly marketable products from innovative ideas. Focusing on specialty optical fabrication, biophotonics, vision care, miniaturized optical and confocal microscopy, military sensors, hyper-spectral imaging, and optically concentrated solar energy, the companys goal is to remain at the cutting edge of optical science and engineering.
With 18 patents to its credit, numerous awards for technological achievement, and deep expertise in optical, electrical, mechanical, and structural engineering, HNu Photonics is a recognized leader in many high-tech fields. The companys high degree of in-house vertical integration is critical to the accomplishment of its mission as an incubator of technological innovation.
A leader in many sectors of renewable energy, HNU ENERGY (www.hnuenergy.com) employs innovative technology to custom-engineer efficient, eco-friendly homes, businesses, utilities, and communities in the US and around the world.
HNU ENERGY has broad and deep experience in renewable energy: from designing and installing one of the largest solar carports and the highest-power battery storage facility in the state, to partnering with Japans NEDO in their JumpSmart Maui and Smart Grid Projects. The company has built a reputation for excellence on its ability to creatively solve complex assignments, supported by vast in-house engineering and research capabilities.
Since its founding in 2006, HNu Photonics has received numerous DARPA grants, represented Maui County as its Product Showcase Company for APEC 2011, been repeatedly recognized by a leading business publication as one of the fastest growing companies in Hawaii, and won the Maui County Innovation Grant in 2015. Its HNu-nanoPOINT Division (www.nanopointimaging.com) won the "Buzz of BIO" award at the Biotech International Organizations 2014 Annual Symposium. Its HNU ENERGY division received the coveted Commercial Dealer of The Year Award from SunPower Corporation.
FOR FURTHER INFORMATION CONTACT:
HNu Photonics
350 Hoohana Street
Kahului, HI 96732
808-244-7800
info@hnuphotonics.com
Featured Product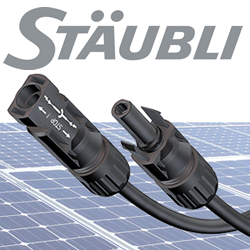 ​Stäubli Electrical Connectors are used on more than 300 GW, over 50% of the PV capacity worldwide. The MC4 family of UL and TUV listed products include connectors, in-line fuses, branch connectors, cable assembly and more.