Significant investment in consumer education required
WASHINGTON, DC -- Community solar projects could give millions of U.S. households access to clean energy, according to a new report from the Smart Electric Power Alliance (SEPA) and Shelton Group. The potential market for these projects -- which allow consumers to buy a portion of the power from a single, larger solar installation -- ranges from a floor of around 3 million households to more than 12 million, depending on program design and marketing, the report says.

But the biggest obstacle to connecting customers to community solar may be lack of information. The study, part of a two-year SEPA initiative funded by the U.S. Department of Energy, found that while 59 percent of participants were interested in solar in general, only 20 percent were familiar with community solar.
"Community solar is a powerful tool for bridging the gap between the public's broad interest in solar and making sure as many people as possible can plug into distributed, clean energy projects," said Dan Chwastyk, SEPA's Utility Strategy Manager. "The Shelton Group survey gives us both the big picture on building markets for community solar and the more granular information individual utilities and solar firms need to tailor their projects to the interests and needs of their specific customers."
Based on market research involving 2,001 residential utility customers and 252 small business customers across the country, the report includes profiles of ideal community solar customers and the messages most likely to appeal to them. Other takeaways include:
• Pricing and financing: No big surprises here -- consumers want low-cost options for buying into community solar projects. For example, for programs in which customers lease a certain number of panels in a project, raising upfront costs from $395 to $495 per panel resulted in a 57-percent drop in consumer interest.
• Real-time information on output: Consumers want to be able to track the output from their share of a project in real time, preferably from a web portal or an app on their cell phones. Program designers should consider this feature a must-have, not an optional add-on.
• Utility involvement: Of those interested in community solar, two-thirds prefer programs sponsored either by their utility or by a solar firm partnering with their utility.
"Americans love solar — we've seen that in our research for years. Once educated about community solar — what it is, how it works — they also love community solar, and we see strong propensities for participation by a significant number of people," said Suzanne Shelton, President and CEO of Shelton Group. "The challenge is bridging that education gap. If we want more Americans participating in community solar, we need to spend significant dollars on marketing to help them understand what it is and how it benefits them."
In the final phase of the project, SEPA is using the findings of this survey and previously released project reports to work with a number of utilities that are exploring their options for setting up community solar programs. For example, Chwastyk is helping the Village of Minster launch a market survey to gauge consumer interest in community solar among the Ohio town's 2,850 residents.
For more information or to download the report, go to http://utilitysolar.report/.
About SEPA
The Smart Electric Power Alliance (SEPA) is an educational nonprofit working to facilitate the utility industry's transition to a clean energy future through education, research and collaboration. SEPA offers a range of research initiatives and resources, as well as conferences, educational events and professional networking opportunities. For more information, visit www.sepapower.org.
About the Shelton Group
Shelton Group is a marketing communications agency entirely focused in the energy and environment space. The firm works with many of America's leading utility, building products and consumer goods companies to develop marketing strategies and campaigns to leverage their energy and environmental commitments for a market advantage. That work is informed by insights and perspectives extracted from Shelton's proprietary polling of American attitudes and behaviors about energy efficiency and sustainability. For more information about Shelton Group, visit www.sheltongrp.com.
Featured Product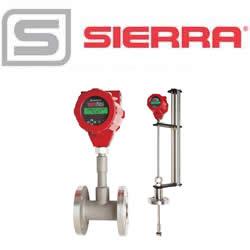 Sierra was the first to introduce a combination volumetric vortex and multivariable mass flow meter in 1997. Today, Sierra's completely redesigned InnovaMass® iSeries™ 240i/241i builds on two decades of success measuring five process variables for gas, liquid and steam with one connection. Now, with the latest hyper-fast microprocessors, robust software applications, field diagnostic and adjustment capability, and a new state-of-the-art flow calibration facility, Sierra's vortex iSeries delivers precision, performance, and application flexibility never before possible.