Innovative financing model launched by Stem extends the company's lead with industry's most well-financed energy storage solution
Stem, Inc., the leader in software-driven energy storage, today announced that its project financing pool now exceeds $350 million with the addition of up to $100 million in new financing from investment affiliates of Starwood Energy Group Global, LLC, a leading private investment firm focused on energy infrastructure.

Stem created the energy storage project financing model in 2013 and is now the global leader in energy storage for commercial and industrial facilities with more than 75 MWh of projects deployed or under contract across more than 480 locations across the United States. Third-party financing enables companies such as Safeway, Wells Fargo, and Adobe to subscribe to Stems award-winning storage- as-as-service solution with no upfront costs for equipment or installation. Customers immediately benefit from intelligent storage that automatically reduces energy use during peak demand times, lowers monthly electricity bills by up to 20 percent, and provides a revenue stream from services that help balance the electric grid.
"Distributed energy resources such as those provided by Stem will be part of the foundation of the future electric grid," said Madison Grose, Vice Chairman, General Counsel and Senior Managing Director at Starwood Energy. "The Stem financing is an attractive investment that facilitates lower energy storage costs and wider adoption of clean energy solutions—a win/win for our investors, Stems customers and the environment," added Patrick Verdonck, a Principal with Starwood Energy.
According to a recent report from GTM Research, the U.S. market for behind-the-meter energy storage grew more than 400 percent in 2015. By 2021, this sector is expected to account for up to 49 percent of the total energy storage market. Stem is estimated to have more than 50 percent market share based on GTM Research.
"This financing vehicle gives our customers access to capital and allows them to achieve the benefits of intelligent energy storage without making a major investment," said John Carrington, CEO of Stem. "Support from Starwood Energy helps solidify Stems position as a well-financed, industry leader in providing intelligent energy storage solutions."
Stem is the global leader in distributed energy storage for the commercial and industrial market with more than 75 MWh of projects deployed or under contract for hundreds of customers. The company offers storage-as-a-service to reduce electricity costs and aggregates energy stored in its fleet of systems to provide grid services as clean, reliable and instantaneous capacity to utilities and grid operators. Stem currently provides grid services to Southern California Edison, Hawaiian Electric, and the California Independent System Operator (CAISO).
Starwood Energy is committed to supporting the development of state-of-the-art energy infrastructure and it is financing Stems proven technology—exceptional software integrated with lithium-ion batteries from top-tier providers—because it represents a compelling value proposition for businesses and utilities.
Stems primary project financing comes from Generate Capital, a specialty finance company pioneering Infrastructure-as-a-ServiceTM to catalyze the Resource Revolution. Generates work with Stem brings a version of the solar financing model to energy storage, supporting its mission to rebuild energy systems using high-impact, proven technology solutions. Other project financing is also provided by Clean Feet Investors.
Featured Product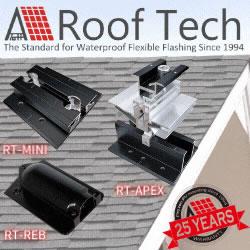 Now Roof Tech brings you the most innovative, watertight mounting systems ever developed for solar photovoltaic systems. Designed and manufactured exclusively for us by Japan's longtime leader in roofing technologies, Roof Tech products are 100% code-compliant and offer fast, simple installation and huge savings on shipping costs due to their compact, rail-less design. Learn more about our full line of versatile PV mounting solutions now available for residential installations. The next generation in rooftop solar mounting solutions."