The Gasification and Syngas Technologies Council (GSTC) is offering a special early-bird registration discount for the 2016 Gasification and Syngas Technologies Conference. The prestigious event will run Oct. 16-19 in Vancouver, Canada. GSTC is offering the discount to those registering by Sept. 9.
WASHINGTON, DC - The Gasification and Syngas Technologies Council (GSTC) today announced a special early-bird registration discount for its upcoming annual conference.

The 2016 Gasification and Syngas Technologies Conference will highlight advances in syngas and methanol production, important trends in biomass and waste gasification, and emerging markets, such as syngas in the production of fuel cells.
GSTC, the worlds premier trade association for the syngas and gasification industries, is hosting the event Oct. 16-19 in Vancouver, Canada.
GSTC is offering an early-bird discount to those registering by Sept. 9. Details can be found at http://www.gasification-syngas.org/events/2016-conference.
The much-anticipated conference is the gasification and syngas industries largest and most prestigious event -- attracting speakers, participants and media from the Americas, Asia and Europe. This years conference will feature a new focus on methanol after GSTC formed a strategic partnership with the Methanol Institute.
"Anyone interested in gasification, syngas or methanol will find this conference well worth their investment," said Alison Kerester, GSTCs Executive Director. "There is no better way to meet the industries most important executives and decision-makers all in one place."
Formerly known as the Gasification Technologies Council, GSTC expanded this year to encompass the syngas production, processing and conversion industries. This years conference has expanded as well.
Among the topics to be covered in detail:
-- Emerging markets for methanol
-- Methanol plant expansion to increase profitability
-- Syngas to liquid fuels
-- Syngas production
-- Syngas for fuel cells
-- Syngas to hydrogen, ammonia/urea and derivatives
-- Syngas cleaning and conditioning
-- Waste and biomass to energy
-- Technology and equipment advances
-- Updates on global projects
In addition, Coanda Research and Development is offering a post-conference tour of its facilities for up to 40 people. Coanda specializes in the analysis and solution of industrial fluid dynamic problems. The tour will go from 1:30 p.m. to 5:30 p.m. on Oct. 19.
The conferences preliminary agenda can be found at www.gasification-syngas.org/events/2016-conference. The conferences Gold Sponsors include Synthesis Energy Systems and KP Engineering; Silver Sponsors include CB&I; and Bronze Sponsors include GE.
For those interested in joining GSTC, the international association is offering new members the opportunity to join this year and get next years membership for free.
The offer is available on both levels of GSTC membership. Anyone joining this year will receive the same level of membership next year free of charge.
Kerester said GSTC members enjoy numerous benefits:
-- Business development opportunities generated by strategic global and domestic marketing programs;
-- Networking opportunities that include exclusive meetings with industry executives, experts and governmental organizations;
-- Access to outreach materials to inform citizens, regulators and legislators about the benefits of gasification. GSTC is developing materials to cover other syngas-producing technologies as well.
-- A comprehensive gasification industry database, as well as a new steam methane reforming database that is under development for members only.
To learn more about the expanded GSTC, or the annual conference, visit www.gasification-syngas.org.
About the Gasification and Syngas Technologies Council
GSTC promotes the role that gasification and syngas technologies play in helping improve the energy, power, chemical, refining, fuel and waste management industries. GSTC encourages the use of economically competitive and environmentally conscious technologies to produce electricity, fuels, chemicals, fertilizers, substitute natural gas, and hydrogen from a variety of feedstocks, including coal, petroleum coke, natural gas, refinery liquids, biomass and waste. GSTC also facilitates relationships among technology, equipment and service providers, as well as plant owners and operators.
Learn more at www.gasification-syngas.org.
Featured Product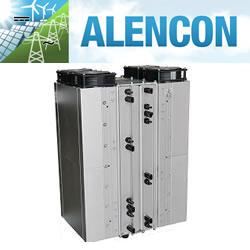 Alencon Systems is the premier manufacturer of high power, high voltage DC:DC optimizers for alternative energy applications including solar, battery energy storage, Microgrids, Fuel Cells and Electric Vehicle charging. Alencon's DC:DC converter offerings include the SPOT, BOSS and CUBE series DC:DC converters. The SPOT is a modular, uni-directional DC:DC solution ideal for solar applications. The BOSS is a modular, bi-directional unit for use with battery energy storage. The CUBE is a monolithic DC:DC converter which is available in both uni-directional and bi-directional modalities. Pictured above, is the Alencon SPOT.