With 421.76 MW installed in 2015, Baker Electric, Inc. ranked #9 on the overall 2016 Top 500 Solar Contactors List, #1 on the Top 20 Solar Electrical Subcontractors List, and #8 on the Top 50 Utility Contractors List.
SAN DIEGO, Calif. August 16, 2016—Solar power is a booming business worldwide, but Southern California utility-scale solar contactor, Baker Electric, Inc. is among the elite companies recently named to an annual and well-recognized list of North America's top solar contractors. Based on Baker's 2015 utility and EPC 421.76 megawatts of solar business, the company achieved a rank of #9 on the Top 500 Solar Contractors in North America. In addition, Baker achieved the #1 rank on the Top 20 Solar Electrical Subcontractors List, as well as #8 on the Top 50 Solar Utility Contactors List.

The Top 500 Solar Contractors List is developed by Solar Power World magazine to recognize the work completed by solar contractors across the U.S. and Canada. The companies on the list are a critical element of the clean energy economy, providing jobs and offering an increasing number of electricity consumers the choice of renewable energy. The list was released July 26.
In addition to Baker Electric, Inc.'s success, Baker Electric Solar, another member of the Baker family of companies and full-service residential and commercial solar provider, achieved a rank of #11 on the Top 100 Solar Residential Contractors List. Both companies ranked in the Top 50 of California's solar contractors with Baker Electric, Inc. #6 and Baker Electric Solar #23.
"The companies on this year's list exude solar-business brilliance, and they deserve to be recognized not only for being great companies but also for how their work positively impacts the environment," said Kathie Zipp, managing editor of Solar Power World. According to the Solar Energy Industries Association, solar power is a renewable resource with great potential to significantly reduce our nation's greenhouse gas emissions.
On the utility-scale solar side, Baker was chosen to complete the final phase of one the largest PV solar projects in the world, Antelope Valley (AV) Solar Ranch One. Baker is responsible for 61.23 MW of the total 230 MW system. In 2015, Baker installed 421.76 MW of utility-scale solar of the total 614.20 MW it's installed from the company's inception in 1938.
"It's a distinct honor to be recognized on the Top 500 list, said Ted Baker, CEO and President of Baker Electric, Inc. "Our #1 solar electrical subcontractor rank in North America is a tribute to our exceptional employees and more than 75+ years of electrical contracting experience. We've achieved our longevity by building strategic relationships with public entities, private developers, general contractors, subcontractors and vendors. Our philosophy is to provide cost-effective solutions that meet and exceed the needs of our clients on every project."
For more information, visit http://www.baker-electric.com and https://www.bakerelectricsolar.com
About Baker Electric Inc.
Founded in 1938, Baker Electric is a closely-held corporation under the leadership of fourth-generation family members. It provides comprehensive pre-construction services and the planning, coordination, design/build, in-house electrical engineering and project management of any size project from initial design to follow-up maintenance. Baker Electric's teams of experts also specialize in utility-scale solar. For more information, visit www.baker-electric.com.
About Solar Power World
Solar Power World (SPW) is the leading online and print resource for news and information regarding solar installation, development and technology. Since 2011, SPW has helped solar contractors—including installers, developers and EPCs in all markets—grow their businesses and do their jobs better. SPW is published by WTWH Media in Cleveland, Ohio.
To view the online release:
http://www.prweb.com/releases/Baker-Electric-Inc/Utility-Scale-Solar/prweb13613564.htm
Featured Product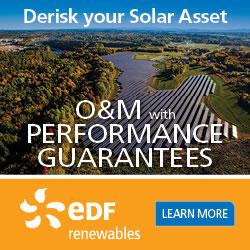 EDF Renewables offers the same innovative solutions that maximize the performance of our own 5.2 GW of installed projects. Because we're not an equipment manufacturer, our recommendations are transparent and data-driven. We cover the entire project lifecycle: from pre-commissioning support, through warranty and post warranty operation, to late stage and decommissioning.