For all the companies out there that sell solar generators, there is a dearth of information on how they actually work ... at least there was. We delve into the hows and whys of solar generators in our latest article.
As hot as it's been lately, it's only natural to think about harnessing the radiating energy of the sun for power, and thanks to solar generators, we can do that. But how exactly does a solar generator work?

Solar panels ... they're not rocket science
Solar power is one of the simplest forms of energy around. Solar generators use solar panels to capture photons from the sun and charge a battery in the generator. Before the power is extracted, an inverter changes it to alternating current electricity, which is what most appliances use today. From there, the generator can power anything that "regular" fossil-fuel electricity can.
How much stuff can a solar generator power?
The SUNRNR, for example, has two solar panels that trap photons in what are called photovoltaic cells (photo = light; volt = power). This standard SUNRNR is capable of two kilowatt hours on a standard charge; the average American household consumes approximately 30 kilowatt hours per day, so up to 10% of your daily power consumption could not only be free from the sun, but portable to take with you.
How long does a solar generator need to charge?
Obviously, this question depends on the intensity of the sunlight, but the SUNRNR manufacturers say that a full recharge is typically about eight hours of direct sunlight to fully charge its battery. This can vary, but in general, setting it up before you leave for work should leave you with a full supply of power by the time you get home.
Sounds great! Where can I buy a solar generator?
While numerous companies online sell solar generators, Alternative Energy, Inc. is a trusted name in the solar industry, and we are proud to work with our partners at SUNRNR to provide solar solutions to our customers. To learn more about our company or about solar power, feel free to give us a call at 484-593-4262.
Featured Product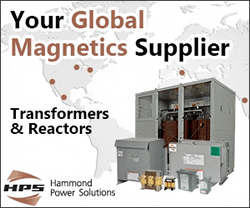 HPS is the largest manufacturer of dry-type transformers in North America. We engineer and manufacture a wide range of standard and custom transformers that are exported globally in electrical equipment and systems. We support solid industries such as oil and gas, mining, steel, waste and water treatment, and wind power generation. HPS leads the industry in these markets through its technical design strength, breadth of product, and manufacturing capabilities, making HPS a stronger company both fundamentally and financially.