TGEP, the Crest Hill, Illinois based company has recently launched its Wi-Fi based add-on module for existing Clippercreek owners with CS series level 2 chargers. The add-on module gives the capability of networking to Clippercreek CS series charging stations
Date of release: 08/19/2016

Curtis Terrell
TGEP
630-847-1421
sales@tgeponline.com
Crest hill, IL: With the electric vehicle market growing by leaps and bounds, the need for fast charging is rapidly increasing. TGEP, the Crest Hill, Illinois based company has recently launched its Wi-Fi based add-on module for existing Clippercreek owners with CS series level 2 chargers. The add-on module gives the capability of networking to Clippercreek CS series charging stations. At the pre-launch event, director Tony George, head of TGEP announced that the add-on for Clippercreek level 2 CS was developed in order to enhance factors such as reliability, cost & expandability in favor of the end users. This product will serve as an upgrade for existing customers who own Clippercreek CS series Level 2 charging stations, as well as for new customers who seek networked charging stations with the highest quality. The add-on comes with a powerful credit card sized Raspberry Pi processor with a custom circuit board. The module fits into existing CS-40, CS-60 & CS-100 level 2 chargers.
The unit provides usage data for customers through the http://www.tgeponline.com/cs website. The installation of the unit takes less than an hour. Various Wi-Fi enabled instruments, such as a laptop, iPhone or android device can be used to configure the existing network to the add-on. Priced at $575, the add-on itself does not do any modifications to the existing structure of the charging station, instead it uses the existing PCB to read the different stages of the charging station.
Featured Product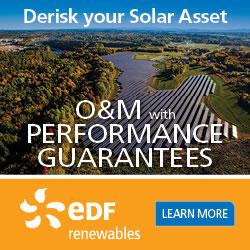 EDF Renewables offers the same innovative solutions that maximize the performance of our own 5.2 GW of installed projects. Because we're not an equipment manufacturer, our recommendations are transparent and data-driven. We cover the entire project lifecycle: from pre-commissioning support, through warranty and post warranty operation, to late stage and decommissioning.