The 8th RENEXPO® INTERHYDRO conference from November 24 -25, 2016 at the Conference Center Salzburg (Messezentrum Salzburg) aims to further contribute to the continued growth throughout Europe.
Salzburg, August 29, 2016 Hydropower, with over 20,000 plants throughout Europe, plays a very important role in Europes economy, as well as securing the energy supply and protecting the environment. A new study "The hydropower sectors contribution to a sustainable and prosperous Europe" presents new data and facts about the economic importance of hydropower for Europe. An increase of up to 20 % is projected by 2020, and of up to 31 % by 2050.

The 8th RENEXPO® INTERHYDRO conference from November 24 -25, 2016 at the Conference Center Salzburg (Messezentrum Salzburg) aims to further contribute to the continued growth throughout Europe. Regional councilor Dr. Josef Schwaiger is the patron of the event. This conference is and will remain the most innovative hub for all hydropower activities in Europe in 2016. It is the central meeting point for the European hydropower industry. The expansion of INTERHYDRO, which was unanimously approved by the conference advisory council, shows the importance of this conference for hydropower in all of Europe and beyond. Adding Italy as a partner country in 2016 further underlies the internationalization of this innovative conference.
As of August 2016, over 80 exhibitors from eleven European countries have confirmed their presence at the conference. The current list shows the entire range of possibilities with hydropower plants, from turbines and pumps, to pipelines and computing systems, all the way to measurement and control technology and even IT-communications. Engineering companies and construction firms will also provide their knowledge for planning and building hydropower plants.
The trade show part of RENEXPO® INTERHYDRO will consist of eight conferences and seminars this year. For the eighth time, a two-day International Small Hydropower Conference "Innovation and Economic Viability" will be held, hosted by the two professors Bernhard Pelikan, from Vienna, and Helmut Jaberg, from Graz. The 1st Italian-German-Austria-Hydropower Forum will be part of the conference. Italy ranks 4th in Europe for the most installed hydropower plants and is the partner country in 2016 for RENEXPO® INTERHYDRO. The topics "Virtual power plants, balancing the energy market, and flexbilization" will be emphasized at the 2nd International Hydropower Conference on Thursday. Here it is especially important to provide information and create awareness on the topic of small hydropower plants, as modern small hydropower plants can be very worthwhile in balancing the energy market, and have great economic potential. Two intensive seminars make up the rest on the day on Thursday, offering information on measurement and control technology, as well as hydropower technology, trends and innovations.
The opening ceremony on Thursday will consist of an Open Energy Talk "Politics and Economy in Dialogue: The importance of Hydropower for a sustainable and prosperous Europe." In essence, the talk is about the role that hydropower can play in the transition to a more economically viable energy policy.
On Friday, the daylong 4th Ecological Hydropower Development conference will focus on implementing water management plans and the implications of the Water Framework Directive. As part of this event, visitors can again take part in an informative excursion to the Power Plant Salzburg-Lehen. Continuously operating the hydropower plant is essential for ensuring economic efficiency. In the second seminar "Inspection, servicing, maintenance, and repair", examples from the industry will be shown. That will also be the case for the 4th seminar "Piping Systems for Hydropower Plant." Exhibitors are the decisive stakeholders for all seminars.
The European Hydropower Association Meeting was initiated in 2015 and has already seen some results. It will take place again this year and be further intensified, as hydropower needs to be strongly represented in the European Union in Brussels. "With this trade show, we are well on our way to Hydropower 4.0," emphasizes Doina Vorosan, Project Manager at Reeco.
The RENEXPO® INTERHYDRO is aimed to reach out to everyone who is active in the hydropower in Europe, including public and elected officials, politicians and economists, colleges and universities. The trade show offers a wealth of information and communication for hydropower plant operators, planers and constructors.
The accompanying program in Salzburg is an exciting cultural attraction in its own right, especially in November. The Christmas Market and the traditional "Krampuslauf" are perfect activities to enjoy after a day at the exhibition.
For further details, visit our homepage www.renexpo-hydro.eu or our Twitter and Facebook pages.
About RENEXPO® HYDRO:
The European Hydropower Conference and Trade Show RENEXPO® INTERHYDRO will take place from November 24 - 25, 2016 for the 8th time in the Exhibition Center Salzburg.
Over 200 industry associations, universities, engineering firms, chambers of commerce, hydropower experts and media representatives are involved in the event. Around 140 exhibitors, 2,500 attendees, and 600 conference participants are expected at the exhibition in 2016.
About the REECO-Group (Hydropower):
The REECO-Group, with headquarters in Reutlingen/Germany, has established itself as one of the largest trade show and conference organizers for hydropower sector in Austria, Germany, Poland, Serbia and Bosnia-Herzegovina.
Since its establishment in 1997, REECO has organized over 100 trade fairs, conference, seminars and workshops for hydropower, attracting nearly 20,000 qualified attendees. Its current event portfolio includes 4 trade shows and 20 conferences in 4 countries.
Featured Product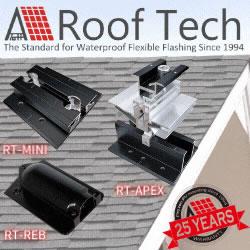 Now Roof Tech brings you the most innovative, watertight mounting systems ever developed for solar photovoltaic systems. Designed and manufactured exclusively for us by Japan's longtime leader in roofing technologies, Roof Tech products are 100% code-compliant and offer fast, simple installation and huge savings on shipping costs due to their compact, rail-less design. Learn more about our full line of versatile PV mounting solutions now available for residential installations. The next generation in rooftop solar mounting solutions."