Exhibition to Include Inverter Solutions and O&M Offerings on Display for the First Time in the U.S.
ROCKLIN, Calif., Sept. 01, 2016—SMA will showcase next-generation residential and commercial solutions designed to make integration easier, more flexible and more profitable at indoor and outdoor exhibits at Solar Power International 2016, September 12-15 in Las Vegas. Visitors to booth #959 will see the North American debut of the SMA Smart Home, featuring Sunny Boy PV, module-level and Sunny Boy Storage technologies. Attendees will also witness the unveiling of the Sunny Tripower CORE1—a unique commercial inverter solution that blends cutting-edge power conversion and grid-management technology with a brand new integration concept that results in up to 60 percent faster installation.

"SMA is delivering its most exciting exhibit to date at this year's Solar Power International," said Marko Wittich, SMA executive vice president of sales for the Americas region. "The game-changing solutions we will be unveiling were developed with the North American market in mind, making it easier for our customers to do business while reducing their costs."
Here's a glimpse of what Solar Power International attendees can expect to experience at SMA's dynamic booth:
• Sunny Boy-US: Solar professionals will be able to view SMA's expanded line of Sunny Boy-US inverters and learn how residential installations can be optimized for speed, flexibility and performance. They also will be able to see how module-level solutions can be selectively deployed to reduce costs and improve ROI.
• Sunny Boy Storage: Based on SMA's award-winning storage technology, the all-new Sunny Boy Storage inverter was specifically developed for the North American market. It will be on display for the first time in the U.S. and will be paired with leading high-voltage batteries.
• Sunny Tripower CORE1: This 50 kW Sunny Tripower inverter is SMA's newest commercial and industrial solution, blending next-generation technology with field-proven success. Attendees will be able to see how this unique offering combines SMA's leading technology with cost-saving improvements that result in incredibly simple, economical installation.
• Multi-Vendor O&M: With more than 1.5 GW of contracts in its portfolio, SMA has rapidly become one of the world's leading providers of plant-wide O&M. In the booth, solar professionals will learn more about our world-class Solar Monitoring Center, unmatched expertise and new multi-vendor O&M, in which SMA will offer O&M solutions on all PV plants including all inverter brands.
• Powerful Partnerships: SMA has developed an unrivaled network of partners that make business simple and more profitable for solar professionals, with solutions pairing technology from SMA and other industry leaders. Also learn more about SMA's Authorized Distributors.
Several of these solutions will also be on display at Green Builder Media's Arc House, which will be situated outside the Las Vegas Convention Center North Hall entrance. The Arc House combines the trend of small house living with progressive building science and the green, self-sufficient philosophy. It will have a strong focus on technological advancements with a "Smart + Storage" message, illustrated by the SMA Smart Home solution, which incorporates a Sunny Boy inverter with the Sunny Boy Storage to achieve whole home energy management. The system is complemented by SMA's module-level power electronic solution and high-voltage batteries for a truly comprehensive, intelligent residential solution.
Elsewhere at the show, SMA will participate in a poster presentation (PV Energy Storage: Creating a Value Chain for the Electrical Grid) and a technical training session (Optimize Residential PV Installations with SMA).
About SMA
The SMA Group with sales of €1 billion in 2015 is the global market leader for solar inverters, a key component of all PV plants, and offers innovative key technologies for future power supply structures. It is headquartered in Niestetal, near Kassel, Germany, and is represented in 20 countries. The Group employs more than 3,000 people worldwide. SMA has an extensive range of products, which offers the right inverters for all module types and plant sizes; for small residential systems as well as large-scale plants, grid-connected photovoltaic systems as well as off-grid and hybrid systems. Moreover, SMA offers system technology for various battery technologies and system sizes and collaborates with renowned battery manufacturers and companies from the automotive industry. The SMA technology is protected by about 700 patents and utility models worldwide. The range of services is supplemented by comprehensive services and operational management of large-scale PV power plants. Since 2008, the Group's parent company, SMA Solar Technology AG, has been listed on the Prime Standard of the Frankfurt Stock Exchange (S92) and is currently the only company in the solar industry that is listed in the TecDAX index. www.SMA-America.com
Featured Product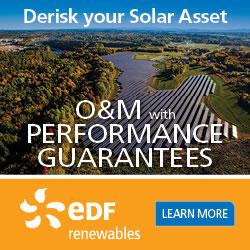 EDF Renewables offers the same innovative solutions that maximize the performance of our own 5.2 GW of installed projects. Because we're not an equipment manufacturer, our recommendations are transparent and data-driven. We cover the entire project lifecycle: from pre-commissioning support, through warranty and post warranty operation, to late stage and decommissioning.