Bird B Gone, the leader in professional grade bird control products for commercial, industrial and residential applications will be showcasing its growing lineup of products at this years Solar Power International Show in Las Vegas.
Showcasing its ever-growing variety of bird and pest control products, Bird B Gone will be at this years Solar Power International Show, September 12-15 at the Las Vegas Convention Center, North Hall & Westgate Hotel.

Solar Power International (SPI) continues to draw solar energy professionals from throughout the global solar industry and has become the fastest growing and largest solar show in North America.
Among the many products Bird B Gone will be showcasing are its new Solar Panel Bird Deterrent, which directly addresses the problem of birds and critters damaging rooftop solar panels. The deterrent uses a specially designed mesh and clips that block out birds and critters. Bird B Gone is also offering a newly released video that provides step-by-step instructions on how to properly install the mesh and clips.
Other products that serve to effectively deter pest birds from solar panels and rooftops include Bird B Gones full variety of bird spikes, which are available in rugged stainless steel or durable polycarbonate (available in a variety of colors). Also highly effective in keeping birds away from solar panels is Bird Jolt Flat Track, Bird B Gones electrified track, which imparts a harmless electric shock to modifying a birds behavior.
The shows full schedule can be found at http://www.solarpowerinternational.com/schedule/ and visitors are encouraged to stop by Bird B Gones booth 2574 to see the latest innovations in bird control.
Bird B Gone is the worlds largest manufacturer and distributor of bird control products, providing effective and humane solutions to a bird-free environment. The company provides advice; training and installation services for those who need help with these and other bird control measures. For the complete line of products from Bird B Gone, call 1-800-392-6915; fax: 949-472-3116 or visit our website at http://www.birdbgone.com, e-mail: nobirds(at)birdbgone(dot)com.
Featured Product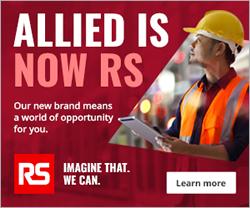 Imagine a global, end-to-end partner for industry - dedicated to solving your problems so you can drive your business forward. We can. On February 6, 2023, we officially changed our name to RS. It's just one way we're evolving to make our partnership and doing business with us even more rewarding. As RS, you have access to more support, more expertise, and more possibilities for your big and small projects - from concept and design to build and maintenance. Going forward, you'll see the RS logo on our website, social media, communications, and packaging. And rest assured, our current systems and procedures will remain intact to seamlessly process your order.