The System Features Industry Leading Inverter Technology and the Safest, Cleanest and Most Reliable Battery Chemistry Ever.
CONCORD, ON, Sept. 8, 2016 /PRNewswire/ - Sentinel Solar, a leading Canadian owned and operated solar products manufacturing and distribution company, will unveil its new energy storage system (ESS)-the AHITM Wave, at this year's Solar Power International Conference in Las Vegas. Developed in partnership with leading global inverter and energy storage manufacturers, the Wave is a complete "plug and play" system; designed for residential use on new and existing grid interactive and off-grid energy storage applications.

Sentinel Solar's AHITM Wave ESS is a complete solution that integrates the industry's leading and only Cradle to Cradle Certified™ Aqueous Hybrid Ion (AHI) Aspen battery technology from Aquion Energy. The system incorporates an inverter designed and developed with world-class technology from Outback Power, including all wiring and communication devices within a fully engineered, robust enclosure.
"Renewable energy sources, such as solar and wind, have vast potential to reduce dependence on fossil fuels and greenhouse gas emissions in the electric sector but rapid adoption of these sources have been stalled due to the lack of sustainable and reliable energy storage capability," said Adam Webb, President, and CEO of Sentinel Solar. "The AHITM Wave's complete energy storage solution addresses the issues faced by varying power demands and intermittent production from renewable energy sources. "
The AHITM Wave ESS is designed to make the installation and setup simple with minimal hardware, drop in paneling and simplified wiring inputs. The base unit boasts a continuous output of 4kW with scalable flexibility for future expansion-thanks to its sophisticated system design-the Wave can grow as your energy demands change.
The AHITM Wave ESS requires no active maintenance which makes it cost-efficient due in part to the high-performance AHITM chemistry at its core. Aquion batteries coupled with leading Outback inverter technology makes the system cleaner, safer, and smarter.
Applications for the AHITM Wave ESS transcends residential energy storage by offering solutions such as; peak load shaving, grid stabilization, self-consumption and remote power applications. The AHITM Wave ESS closes the loop in the clean energy cycle to create a truly sustainable way of producing, storing and consuming clean and sustainable energy.
"Sentinel Solar designs and manufactures its products with skills and knowledge supported by strategic partnerships with emphasis on product performance," added Adam Webb. "We believe bridging industry leading technology with core Sentinel Solar expertise and engineering, leads to the design and manufacturing of affordable, reliable and durable products. "
"The AHITM Wave is the latest product to be developed by Sentinel, and the passion behind it shows in the finished product," said Jason Cohen, Sales Manager at Sentinel Solar. "The Wave was designed with three key drivers in mind; safety, simplicity, and reliability. We strongly believe that not only do the products we produce need to work, but they need to be simple to install, this improves installer efficiency and lowers overall cost to the consumer."
About Sentinel Solar
Sentinel Solar is a leading Canadian owned and operated distribution and manufacturing company providing solar energy products and solutions for power generation and storage suitable for any grid interactive and off-grid solar energy project throughout North America.
The company has established itself as the benchmark in the Canadian solar industry with its dedication to product excellence and customer satisfaction. Over 20 years' experience in Canada's solar industry, delivering top-quality products and constant innovation is what makes Sentinel Solar the reliable choice as your system provider.
Headquartered in Concord, Ontario and an office in Calgary, Alberta, Canada; Sentinel Solar provides innovative solutions at competitive prices for roof, ground and architectural solar installations.
For more information, visit: www.sentinelsolar.com
Featured Product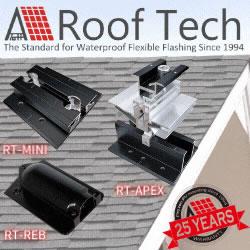 Now Roof Tech brings you the most innovative, watertight mounting systems ever developed for solar photovoltaic systems. Designed and manufactured exclusively for us by Japan's longtime leader in roofing technologies, Roof Tech products are 100% code-compliant and offer fast, simple installation and huge savings on shipping costs due to their compact, rail-less design. Learn more about our full line of versatile PV mounting solutions now available for residential installations. The next generation in rooftop solar mounting solutions."