With Superior Engineering and Economy of Scale Boviet Solar USA Develops Next-Generation, Cost-effective n-type PERC Modules That Deliver Up to 660W of Power
LAS VEGAS--(BUSINESS WIRE)--Boviet Solar USA, the North American arm of Boviet Solar Technology Co., Ltd., a global leader in the manufacture of high-quality photovoltaic technology, will be displaying its latest n-type PERC (Passivated Emitter Rear Contact) solar modules at Solar Power International, Booth W701. Boviets new line of PERC modules will be priced to compete with conventional solar modules but will deliver double the power, making them ideal for applications such as multitenant structures, hard-to-install rooftops, and installation markets where solar systems are less popular due to a lack of predictable sunshine. Boviet Solar USA will begin shipping its new n-type PERC modules in early 2017.

"PERC solar technology has been with us for some time, but the challenge has been bringing the cost of manufacture down to make PERC modules price-competitive," said Eric Ma, President and Managing Director of Boviet Solar USA. "Thanks to our first-class R&D capabilities and state-of-the-art manufacturing, Boviet has been able to drive down the cost of PERC modules through superior design and economies of scale. Our new line of n-type PERC solar units will be priced to compete with todays popular PV modules, but they will deliver more power, opening new market possibilities for wholesalers and installers."
PERC technology improves conversion efficiency by adding a dielectric passivation layer at the rear of a solar cell, helping maximize the electrical gradient across p-n junctions for a steadier flow of electrons, hence greater efficiency. The n-type cell structure delivers greater power efficiency, allowing solar integrators to deliver more photovoltaic power in a smaller footprint.
Boviet Solar USAs PERC modules will be available in both multi-crystalline and monocrystalline versions and promise to deliver up to 660W of power. Boviet executives anticipate that the new PERC modules will be ideal for multitenant installations such as apartment and office buildings or facilities with higher energy demands. They also make solar systems more cost-effective in markets where sales are inhibited by a lack of reliable sunny days, such as the Midwest and New England.
Following the companys acquisition by Powerway Alloy Materials Co., Boviet Technology Co. has been able to expand its Vietnamese manufacturing facility from 280MW to 600MW effective in June of this year. The new Powerway Alloy parent company also has been instrumental in providing additional capital for expansion, as well as world-class R&D and engineering resources to help design the next-generation PERC solar modules.
Boviets line of solar modules have not only obtained all certificates, but they also passed the industry's highest long-term reliability tests, far exceeding the IEC standards. Boviet Solar USA will be displaying its entire line of high-performance multi-crystalline and monocrystalline modules at Solar Power International, all designed for superior quality, safety, performance, durability, and reliability. And since Boviet products are produced in Vietnam they are being offered to the U.S solar market tariff-free.
About Boviet Solar USA
Headquartered in Silicon Valley, Boviet Solar USA is the North American arm of Boviet Solar Technology Co. Ltd., the largest manufacturer of solar cells and panels in Vietnam. A wholely owned subsidiary of Powerway Alloy Materials Co., Boviet Solar USA delivers commercial-grade solar modules, cells, and related products to contractors, integrators, and distributed generation (DG) providers across the country. Boviet Solar USA offers innovative, state-of-the-technology products developed and manufactured at the companys 530,000 square foot facility in Vietnam, which is designed to produce 700MW of solar cell and module capacity each year. Boviet Solar USA also delivers solar products where and when they are needed, shipping from six fully stocked warehouses located in Arizona, California, Georgia, New Jersey, and South Carolina.
For more information about Boviet Solar USA and its complete line of solar modules and cells, visit www.bovietsolarusa.com.
Featured Product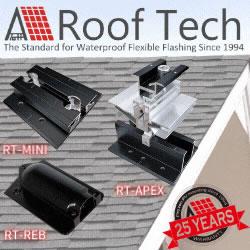 Now Roof Tech brings you the most innovative, watertight mounting systems ever developed for solar photovoltaic systems. Designed and manufactured exclusively for us by Japan's longtime leader in roofing technologies, Roof Tech products are 100% code-compliant and offer fast, simple installation and huge savings on shipping costs due to their compact, rail-less design. Learn more about our full line of versatile PV mounting solutions now available for residential installations. The next generation in rooftop solar mounting solutions."