2016 Solar Power Players Award recognizes CECs leadership helping utilities integrate community solar.
Clean Energy Collective (CEC), the nations leading community solar solutions provider, has been named 2016 Solar Power Players "Innovative Partner of the Year" by the Smart Electric Power Alliance (SEPA). This prestigious award honors electric utility partners for creating the innovation and collaboration that drives smart solar growth among utilities and expands access to distributed energy technologies for their customers.

With the most widely adopted community shared solar model in the country, Clean Energy Collective has consistently demonstrated its intimate understanding of utility business processes, objectives, and the environment in which they operate. CEC has partnered with utilities for over seven years to deliver projects, services, and comprehensive software solutions that enable utilities of all types to offer a broad-reaching, cost-effective renewable energy program while preserving and strengthening the relationship with their customers.
CEC founder and CEO Paul Spencer expressed his gratitude for the recognition. "It is an honor to be recognized by SEPA for our collaboration with utilities. We started CEC based on the belief in the long-term power of utility-driven community solar and are proud to be working with some of the countrys largest IOUs and most advanced co-ops and municipal utilities to deploy efficient, well-executed programs," he said.
Developing community solar programs of all types in highly diverse environments has allowed CEC to provide unique capabilities to utilities as they navigate the regulatory, operational, and technical challenges inherent in community solar programs. CEC has built or has under development more than 100 RooflessSolar™ projects serving 12 states with 27 utility partners, including South Carolina Electric and Gas (SCE&G), CPS Energy, Avista Utilities, Fort Collins Utilities, and Xcel Energy.
In the past year alone CEC offered the first community solar program for the largest municipal utility in the country (CPS Energy), interconnected the first community solar array for a northwestern IOU (Avista), consulted for an investor-owned utility on how to meet a regulatory mandate to investigate community solar (Entergy), played a lead role in negotiations on two settlements with Xcel Energy improving Colorados pioneering legislated program, and provided its Community Solar Platform as the software foundation for two new IOU-led programs. CEC also just announced a new partnership with SCE&G to deliver the largest utility-driven community solar program in South Carolina and one of the largest in the country, which CEC will develop, build, own, and maintain.
"Community solar programs are increasingly recognized as a critical and extremely effective strategy for utilities to meet their customers demand for clean energy while also gaining experience with solar," said Julia Hamm, SEPA president and CEO. "What we see with Clean Energy Collective, and our other category winners, is the competitive economics of solar driving a new willingness among utilities and their solar industry partners to collaborate on well-designed, customized solutions for putting more solar on the grid."
Clean Energy Collective, along with winners in four other categories, will be honored at an awards luncheon on Tuesday, Sept. 13 at Solar Power International (SPI) in Las Vegas.
About Clean Energy Collective
A solar tech start-up in 2009, Clean Energy Collective (CEC) has grown to become the worlds leading developer of community solar solutions. CEC pioneered the model of delivering clean power-generation through medium-scale solar PV facilities accessible to all utility customers. Since establishing the countrys first community-owned solar array near El Jebel, Colorado in 2010, CEC has built or has under development more than 100 RooflessSolar™ projects with 27 utility partners across 12 states, serving thousands of customers, and representing more than 177 MW of community solar capacity. CEC is also the leading provider of community solar software and services to the utility, development and financial industries through its Community Solar Platform™. www.cleanenergyco.com
About SEPA
The Smart Electric Power Alliance (SEPA) is an educational nonprofit working to facilitate the utility industrys transition to a clean energy future through education, research and collaboration. SEPA offers a range of research initiatives and resources, as well as conferences, educational events and professional networking opportunities. SEPA is co-founder and co-sponsor of Solar Power International. For more information, visit www.sepapower.org.
Featured Product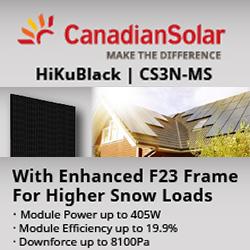 Aesthetic appearance for residential systems: With black backsheet & black frame, Power range 380 ~ 405 W, Low power loss in cell connection. Enhanced reliability: · Low temperature coefficient (Pmax): -0.34 % / °C, LID LeTID less than 2.0%, Lower hot spot temperature, Better shading tolerance.