PV-03 Photovoltaic Connectors make solar power system installation quicker, more reliable and less expensive
LAS VEGAS--(BUSINESS WIRE)--SMK Electronics Corporation U.S.A., a division of SMK Corporation, a global developer and manufacturer of solar energy system photovoltaic module components, announced today that it will showcase its family of PV-03 Photovoltaic Module Connectors this week at Solar Power International (SPI), to be held at the Las Vegas Convention Center, September 12th-15th (North Hall; booth # 410).

"Projected to grow a staggering 119% in 2016, the U.S. solar market is forecast to reach 16 gigawatts of installed solar by the years end—more than doubling that of 2015," said Paul Evans, President of SMK Electronics Corporation. "Serving the needs of this emerging industry, SMKs family of PV-03 Connectors is designed to streamline photovoltaic module installation—providing a one-step 'snap to lock cable connection that is quicker, more precise and less expensive than traditional PV module connectors."
PV-03 Photovoltaic Module Connectors
Featuring a one step 'snap to lock mating system, SMK Electronics PV-03 Photovoltaic Connectors enable quick, accurate solar panel interconnection, helping to eliminate installer errors in the field or factory installation of photovoltaic systems. Supporting all popular cable diameters including 600 Volt, 1000 Volt and 1500 Volt DC systems, SMKs PV-03 Connectors meet the NEC2008 standard for safe installation of electrical wiring. Further, the IP67-rated PV-03 connectors are UV and ozone resistant, UL approved, and designed for use with leading PV solar module products.
About SMK Electronics Corporation U.S.A.
SMK Electronics Corporation U.S.A. is a division of SMK Corporation, a world leader in the design, development and manufacture of solar energy system components. With local R&D and manufacturing facilities, in coordination with SMKs manufacturing centers worldwide, SMK Electronics U.S.A. is uniquely positioned to supply the U.S. solar industry with innovative, reliable and cost-effective solar energy system components, For more information, visit http://www.smkusa.com/.
Featured Product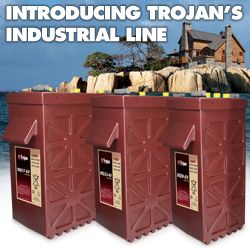 Trojan's deep-cycle batteries provide rugged durability, outstanding performance and long life for use in all types of solar energy installations. With over 90 years of experience, Trojan delivers the world's most reliable and trusted batteries in flooded, AGM, Gel, and Lithium types. These batteries enable solar equipment systems to operate at a peak level of performance in the harshest conditions or the most challenging of locations and are manufactured and tested to IEC standards.