New Products Feature High Power Output utilizing PERC and Bifacial Technology
LAS VEGAS - Mission Solar Energy, a San Antonio-based manufacturer of utility-scale, commercial and residential high-efficiency solar modules, announced today the addition of four new module lines to their product offering. The Apollo, Mercury, Gemini and Gemini Elite modules utilize advanced technology to provide best-in-class efficiency, reliability, power and aesthetics. The modules, all manufactured/assembled in the United States, will be available for preview this week at Solar Power International 2016, North Americas premier business-to-business event for professionals in solar energy and related fields.

Overview of New Products
Apollo
The Apollo is a 72-cell module capable of producing a class-leading 360W of power. The module utilizes Passive Emitter Rear Cell (PERC) technology and four busbars to drive module-level efficiency greater than 18%. The Apollo allows users to reduce system costs through robust design, 1,500V compatibility and simple installation.
Mercury
The Mercury is Mission Solar Energys first product designed specifically for the rooftop market. The Mercury is a 60-cell module capable of producing 300W of power. The module also utilizes PERC technology and 4 busbars to produce module-level efficiency over 18%. In addition, the modules sleek, aesthetically-pleasing black-on-black design makes it ideal for commercial and residential rooftop installations.
Gemini
The Gemini bifacial module features 72 N-type monocrystalline cells capable of producing 330W of power from the front side and additional power off the backside for up to 400W of total power. Use of N-type cell technology makes this module ideal for use in harsh climates including snow and desert conditions. The N-type cells are not subject to light induced degradation (LID), allowing the modules to harvest maximum energy.
Gemini Elite
The Gemini Elite is a 72-cell, dual-glass bifacial module that produces up to 330W of power plus additional power off the back side for a potential 400W of power. This module features excellent durability, no potential induced degradation (PID) and a Class A fire rating. The Gemini Elites attractive, frameless design is ideal for carports, breezeways and built-in locations. Like the Gemini, the Gemini Elite is not subject to LID and operates well in low light and/or harsh conditions.
"Our solar cells and modules feature American quality, high power output and high efficiency, said Alex Kim, CEO of Mission Solar Energy. "Our new line of modules feature some of the very best in solar technology and are an indication of where we are headed as a company."
All products will be available to the public in early 2017 and will be available for viewing at booth 1059 at Solar Power International, September 12-15 at the Las Vegas Convention Center. For more details visit missionsolar.com.
Featured Product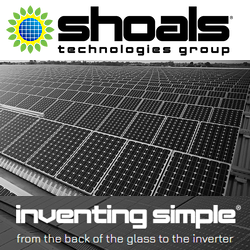 Inventing Simple® isn't just a slogan to us, it's a way of life. Using simple plug-and-play ideology, we revolutionized solar installations in 2003 with our Interconnect System™. Our harnessing system is now the gold standard EPC's use around the world. By using simple ideas, we are making solar energy a more affordable and clean power source for future generations.