Leading international manufacturer of components and systems for optical and electrical connectivity, HUBER+SUHNER, is to demonstrate its solutions for intelligent energy networks at WindEnergy Hamburg, taking place September 27-30.
'Today meets tomorrow' for the Swiss-based company, which will be exhibiting its contemporary products and systems according to future demanding requirements of the energy industry. The showcase of HUBER+SUHNER at WindEnergy will focus especially on applications in the generation, transmission and distribution of power.

"Hamburg is a thriving business metropolis and major hub for the international Wind Energy sector," said Rico Schöni, Market Manager Industry at HUBER+SUHNER. "With the European wind industry capital as its venue, WindEnergy Hamburg provides the perfect setting for us to present HUBER+SUHNER's solutions for energy networks on a professional and international platform."
HUBER+SUHNER offers passive solutions for power generation as well as transmission and distribution. The company offers the most comprehensive and modular product portfolio for control, communication or SCADA systems for wind power, water power plants or power distribution.
Some of HUBER+SUHNER's most innovative products will be on display at WindEnergy, including the Q-ODC-12, a connector with the smallest and most robust design that has the highest fiber density in its class, with the ability to connect up to 12 fibers in one mating step. Also on display will be the efficient Masterline Ultimate (MLU), an innovative cabling system for rough environments within the energy industry. The MLU connects active equipment such as SCADA-Controllers, platform equipment or maintenance equipment with easy to install Q-ODC fiber optic jumpers and is the best for fast and secure installation and robustness, due to its cabling system supporting up to 12 individual active components.
"Ensuring an adequate energy supply is one of the greatest technological challenges of the twenty-first century, and the efficient distribution of energy is a critical factor for ensuring the success of the energy revolution," said Schöni. "This is where the skills of HUBER+SUHNER come into play. Understanding the demand for power generation, transmission and distribution has ensured that we are always developing our portfolio to meet those demanding standards."
HUBER+SUHNER delivers small, environmentally protected, fiber optic connection solutions which are fully plug-and-play on site. Due to the solutions' easy installation process, there is no need for expensive installation material or specially trained installation personnel.
"When wireless antenna and high frequency components are needed, HUBER+SUHNER has the right product set to add mobility to every energy network," added Schöni.
WindEnergy visitors can view HUBER+SUHNER's offering in Hall B6, Booth 212 at the Hamburg Messe, September 27-30.
Featured Product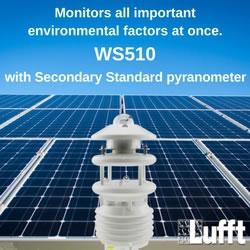 Professional weather sensors form the heart of large solar plants supporting their operation and performance. Lufft was the first manufacturer to combine several sensors in one housing, bringing the largest multiparameter weather sensor family with 19 members into being. Many of them are well-suited for solar site assessment and continuous monitoring. The most commonly used one is the WS600 delivering data on temperature, air pressure, wind, relative humidity and precipitation. Through its open protocol, it can easily be attached to radiation sensors e.g. from Kipp&Zonen. Other models have an integrated Silicon, Second Class or Secondary Standard radiation sensor.