LEUVEN,Belgium; KARLSRUHE, Germany; STUTTGART, Germany—Sept. 27, 2016—Scientists from imec (partner in Solliance and EnergyVille), Karlsruhe Institute of Technology (KIT), and Zentrum für Sonnenenergie- und Wasserstoff-Forschung Baden-Württemberg (Centre for Solar Energy and Hydrogen Research, ZSW), today announced that they have fabricated a thin-film solar module stack made up of perovskite and Copper Indium Gallium Selenide (CIGS) with a conversion efficiency of 17.8 percent. For the first time, this tandem module surpasses the highest efficiencies of separate perovskite and CIGS modules.

The stacked module (3.76cm2) implements a fully scalable device concept: both the perovskite top module and the CIGS bottom module feature a monolithic interconnection scheme, using seven and four module cell stripes respectively. The result is a reduction of area loss of less than eight percent for both technologies.
The consortium's process for creating this efficient perovskite/CIGS multi-junction solar module relies upon efficient exploitation of the solar spectrum. The higher energy part of the spectrum is harvested in the semitransparent perovskite module on top, while the light with lower energy passes and is harvested in the bottom CIGS cell. As a result, the prototype shows an unprecedented power conversion of 17.8 percent, which outperforms the world-record upscaled perovskite module of 15.3 percent efficiency presented by imec, and also the highly-efficient stand-alone upscaled CIGS module of ZSW with efficiencies nearing 15.7 percent.
"This result was achieved through close and intricate collaboration leveraging the expertise of the three partners. Imec's expertise in perovskite technology was underscored by the use of a perovskite top module in these stacked solar modules," stated Dr. Tom Aernouts, head of thin-film PV research at imec.
According to Dr. Ulrich Paetzold, head of the research group at KIT, this result is just a starting point, with more exciting results to come in the next years such as perovskite/CIGS multi-junction solar modules surpassing efficiencies of 25%. The Helmholtz Young Investigator group of Dr. Paetzold is focusing on the optics in multi-junction perovskite solar modules and will develop further specialized nanophotonic materials for these devices.
Finally, ZSW contributed with its world class expertise in CIGS solar modules. ZSW holds the current world record for CIGS solar cells at 22.6%. Prof. Dr. Michael Powalla, member of the board and head of the Photovoltaics Division at ZSW, points out: "This success is an elegant way of combining the advantages of two highly advanced thin-film technologies. It will contribute greatly to ever more cost-efficient solar power for the customer."
The module and technical details will be presented to the research community at the PSCO-2016 in Genova, Sept. 26 by Dr. Tom Aernouts, imec; Dr. Ulrich Paetzold, KIT; and Dr. Erik Ahlswede, ZSW.
About imec
Imec performs world-leading research in nanoelectronics and photovoltaics. Imec leverages its scientific knowledge with the innovative power of its global partnerships in ICT, healthcare and energy. Imec delivers industry-relevant technology solutions. In a unique high-tech environment, its international top talent is committed to providing the building blocks for a better life in a sustainable society. Imec is headquartered in Leuven, Belgium, and has offices in Belgium, the Netherlands, Taiwan, USA, China, India and Japan. Its staff of about 2,500 people includes about 740 industrial residents and guest researchers. In 2015, imec's revenue (P&L) totaled 415 million euro. www.imec.be.
Imec is a partner in Solliance (www.solliance.eu), a partnership of R&D organizations from the Netherlands, Belgium and Germany working in thin film photovoltaic solar energy, and in EnergyVille (www.energyville.be), an association of the Flemish research centers KU Leuven, vito, imec and UHasselt in the field of sustainable energy and intelligent energy systems.
Imec is a registered trademark for the activities of IMEC International (a legal entity set up under Belgian law as a "stichting van openbaar nut"), imec Belgium (IMEC vzw, supported by the Flemish Government), imec the Netherlands (Stichting IMEC Nederland, part of Holst Centre which is supported by the Dutch Government), imec Taiwan (IMEC Taiwan Co.), imec China (IMEC Microelectronics Shanghai Co. Ltd.), imec India (Imec IMEC India Private Limited) and imec USA (IMEC Inc).
About Karlsruhe Institute of Technology (KIT)
Karlsruhe Institute of Technology (KIT) pools its three core tasks of research, higher education, and innovation in a mission. With about 9,300 employees and 25,000 students, KIT is one of the big institutions of research and higher education in natural sciences and engineering in Europe. More about the KIT Energy Center: http://www.energy.kit.edu
The research involved in this press release is driven by the Helmholtz Young Investigator Group of Dr. Ulrich W. Paetzold at the Institute of Microstructure Technology and the Institute of Light Technology. This new research group tackles the key challenges of high efficient perovskite/Si and perovskite/CIGS photovoltaic technologies. In particular, novel nanophotonic materials for these devices are researched to optimize the light harvesting capabilities.
About Zentrum für Sonnenenergie- und Wasserstoff-Forschung Baden-Württemberg (ZSW)
The Zentrum für Sonnenenergie- und Wasserstoff-Forschung Baden-Württemberg (Centre for Solar Energy and Hydrogen Research Baden-Württemberg, ZSW, see www.zsw-bw.de) is one of the leading institutes for applied research in the areas of photovoltaics, renewable fuels, battery technology, fuel cells and energy system analysis. There are currently around 230 scientists, engineers and technicians employed at ZSW's three locations in Stuttgart, Ulm and Widderstall. In addition, there are 90 research and student assistants.
This press release is also available at www.imec.be, www.kit.edu and www.zsw-bw.de.
Featured Product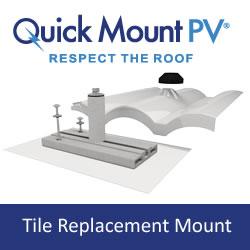 The Tile Replacement Mount provides a fast and easy way to install solar on tile roofs while protecting against water intrusion. Simply remove the tile and replace it with the Tile Replacement Mount. Works with all standard curved and flat tile roofs, and all standard rail-based racking systems. Flashed at both the deck and top levels, the mount is fully engineered to meet code requirements and industry best practices. The Tile Replacement Mount features Quick Mount PV's patented Elevated Water Seal technology for optimal waterproofing. Get a free sample and see for yourself!