Major names in the international geothermal community and regional and national politics will address the geothermal energy industry at the GRC Annual Meeting in Sacramento, California, USA.
(Sacramento, California, USA) The Geothermal Resources Council (GRC) has announced more details of events at the worlds largest annual geothermal conference, the GRC Annual Meeting & GEA Geo Expo+, held this year at the Sacramento Convention Center in Sacramento, California, October 23-26.

The speakers at the Opening Session of the GRC Annual Meeting on Monday morning, October 24 includes major names in the international geothermal community and regional and national politics: Paul Brophy, President Geothermal Resources Council; Dr. Susan G. Hamm, Director, Geothermal Technologies Office, U.S. Department of Energy; Jan Smutny-Jones, CEO, Independent Energy Association; Jim Kluesener, Vice President - Geothermal, Calpine Corporation; Dennis Gilles, CEO, US Geothermal, Inc. ; Randy Keller, Director of Development, CalEnergy; The Honorable Eduardo Garcia, California 56th Assembly District; Andrew Palmateer, Director, U.S. Energy Association; Bob Sullivan, Executive Vice President - Business Development, Ormat; Mike Long, Senior Project Manager, POWER Engineers; Pierre Audinot, PhD, Clean Energy Program Leader, World Bank; Gabriel Negatu, Regional Resource Center Director, African Development Corporation; Gurbuz Gonul, Senior Program Officer, International Renewable Energy Agency; V. John White, CEO, Center for Energy Efficiency and Renewable Technologies; Kevin Kelly, General Manager, Imperial Irrigation District; The Honorable Mike McGuire, California State Senate, 2nd District; Rhonda Mills, Representative, Western States Issues, Geothermal Energy Association; Micah Mitrosky, Environmental Organizer, IBEW Local 569, and Steve Ponder, Executive Director, Geothermal Resources Council. Entry to the GRC Opening Session is free to the public.
In addition, the GRC is presenting an International Session on Monday afternoon, October 24 with speakers providing updates on geothermal energy development around the world: Andrea Blair, GNS New Zealand; Abadi Poernomo, President, Indonesian Geothermal Energy Association; Paul Cerrullo, EDC; Toshiyuki Tosha, Kumamoto University; Tevfik Kaya, GeothermEx/Schlumberger; Rashid Ali Abdallah - African Union; Solomon Kariuki, Operations Director, Ken Gen; Paul Moya - West Japan Engineering Consultants, Inc., and Paul Brophy, EGS Consulting Inc. Entry to the GRC International Session is in addition to GRC Annual Meeting registration.
The GRC Annual Meeting & GEA GeoExpo+ is the industrys largest annual gathering of leading geothermal energy scientists, producers, renewable energy industry stakeholders, regulators, utilities, and key associated business leaders. The four-day event will offer technical, policy, and market conference sessions, educational seminars, tours of local geothermal and renewable energy projects, a trade show and numerous networking opportunities.
Registration for the GRC Annual Meeting is now open and includes entry to the GEA Expo. Room reservations can now be made on the GRC website at www.geothermal.org.
For more information about the GRC Annual Meeting & GEA GeoExpo+ at the Sacramento Convention Center in Sacramento, California, USA visit www.geothermal.org or call (530) 758-2360.
For information on how to sponsor this event, contact Estela Smith, GRC at (530) 758-2360 or grc@geothermal.org.
##
About the Geothermal Resources Council:
With the experience and dedication of its diverse, international membership bolstering a 45-year track record, the Geothermal Resources Council has built a solid reputation as one of the worlds preeminent geothermal associations. The GRC serves as a focal point for continuing professional development for its members through its outreach, information transfer and education services.
For more information, please visit www.geothermal.org.
Get your daily geothermal news at Global Geothermal News
[geothermalresourcescouncil.blogspot.com]. Become a fan on Facebook [www.facebook.com/GeothermalResourcesCouncil]. Follow GRC on Twitter [@GRC2001 and @GRCAM2016]. Check out GRCs YouTube Channel [www.youtube.com/GeothermalCouncil]. See geothermal photos on GRCs Flicker page. [www.flickr.com/photos/geothermalresourcescouncil]
###
Featured Product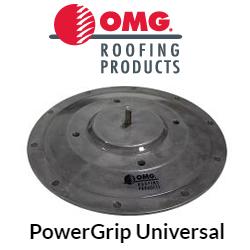 Eliminate Solar Rack Ballast and Reduce Rooftop Material Handling. PowerGrip™ Universal (PGU) is a commercial roof mount system designed to secure solar racks and other equipment to any type of commercial roofing system. PGU provides a secure connection directly to the roof deck or structural members and is designed to reduce or eliminate ballast in solar racking systems, so there's less weight on the roof and less material handling. Made of heavy-duty cast aluminum, PGU units include a base ring which is secured through the roofing cover and into the structural roof deck, and a waterproof top plate.