ALTA-AZU e Mobility Pvt Ltd has launched its ZERO Upfront Clean City Transit Project during "Buses, Depots and Stations Transformation Summit" held at Shangri La Hotel Bangalore. Over 100 delegates including government officials, industry experts, operators, automotive and OEMs attended the event.
Clean City Transit Project-CCT is ALTA / AZU primary business strategy. The CCT project aims to assist Governments in transforming to Clean Urban transportation without financial burden on the Government by progressively introducing Microvast 10 minutes Fast Charge and long cycle life battery technology to city buses, taxis and passenger cars.

ALTA/AZU eMobility is leading an innovate consortium to manufacture fourth generation lightweight, energy efficient and affordable electric buses. The project also includes the expertise of the CRRC Corporation Limited, a Chinese state owned rolling stock manufacturer with 175,700 employees, and the largest rolling stock manufacturer in the world, SMK Prakash- body building and Siemens - LEERI Solar for fast charging station.
ALTA -AZU role in the project will include vehicle dynamics modeling, overall vehicle control system, integration, lightweight body structure, remote monitoring and fleet management software to ensure the lowest cycle life cost.
Microvast has delivered more than 20,000 electric vehicle ultra fast charging battery systems since 2011. Those battery systems are in operation in over 100 cities worldwide, accumulated more than 750 million kilometers operation range without any battery safety accident.
Financial Times has announced the shortlist for the 2016 FT/IFC Transformational Business Awards, which regards as an "Oscar" for Emerging Markets, and Microvast has been nominated for Achievement in Low-Carbon Urban Transformation.
The non-combustion electrolyte and the temperature tolerance separator are two active protection methods. Combined with STL intelligent thermal control fluid technology, Microvast has achieved its goals of non-combustion, advanced safety and high performance in a battery system.
AZU provides lightweight body structure (patented). The Special alloy structure is less expensive than conventional steel construction. The cost of batteries is considerably reduced as a result of the lower mass of the vehicle. Capital investment is low enough to allow distributed manufacturing in "microfactories".
Combining the technical expertise of ALTA-AZU eMobility, Micorvast CRRC and the financial strength of investment partner bring viable Carbon free Zero upfront initiatives to market. ALTA-AZU was instrumental in developing and funding opportunities worldwide for Carbon FREE transport and logistics.
Abdul Manaf Founder and Managing Director of AZU e Mobility developed an exceptional business model that will benefit all stake holders involved, including the automobile manufactures, transporters, general public and government authority.
ALTA AZY e Mobility is able to identify and manage all typical operational and cost drivers of Electric vehicles in order to increase energy efficiency and reduce the Total Cost of Ownership (TCO).
ALTA-AZU e Mobility is in advance level of discussion with Association of State Transport Undertaking (ASRTU) for pan India deployment electric buses for Clean City Transit services.
Electric buses will be designed by AZU e Mobility and assembled in India. E-Bus components will be adapted to the local market with 100% localization of bus body and overall localization of over 50%.
Sheela Ramasesha and her group conducted a study at the Divecha Centre for Climate Change in Bangalore. "As much as 25 tons of carbon dioxide (CO2) emission can be cut every year, for every diesel bus replaced by an electric bus", said the IISC study. India is now the world's fastest-growing major pollute, contributing to almost a third of global emissions growth in 2015.
E-Bus generates 27% more revenue and 82% more profits compared to its diesel counterparts per day. The findings have special significance because primary mass transit in Indian cities is provided by 150,000 diesel buses. They are the main culprits for causing urban smog in metros and global warming.
Globally, more than 5.5 million people die prematurely every year due to air pollution, according to a report published by the World Bank and the Institute for Health Metrics and Evaluation.
In India, less than one percent of the population lives in areas which meet WHO guidelines on air quality termed safe for breathing. It shows that India lost 1.4 million lives to air pollution in 2013.
"Air pollution is the fourth-highest risk factor for death globally and by far the leading environmental risk factor for disease," said Michael Brauer, a researcher from the University of British Columbia.
Featured Product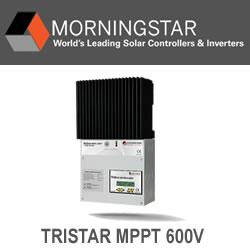 Morningstar's TriStar MPPT 600V charge controller leverages Morningstar's innovative TrakStar™ MPPT technology and our 20+ years of power electronics engineering excellence, to enable the widest input operating voltage range available from a solar array, wind turbine or hydro input. This controller's standard and DB versions are for off-grid applications, and the TR versions were developed to enable retrofitting grid-tied systems with battery backup.