The PV Link substring optimizer is a DC/DC power converter that provides maximum power point tracking for up to nine solar modules simultaneously, connecting them to the REbus™ 380VDC Nanogrid.
Pika Energys simplified approach to optimized solar with faster installation times and reduced costs has received ETL Listing to the UL-1741 Standard, the company announced Wednesday.

The PV Link optimizer (model S2501) allows solar installers to build substrings of two to nine modules connected to each PV Link device, speeding up installations and reducing hardware procurement and maintenance costs. PV Link is shipping now to customers in North America as a component of the Pika Energy Island™, a single-inverter system for simplified solar-plus-storage.
Earlier in the week, Pika Energy announced the UL-listing of its Pika Islanding Inverter™ (model X7601). The PV Link optimizers connect to the Pika Islanding Inverter to form the battery-ready Energy Island system, which combines solar generation and smart batteries on a common DC bus.
"PV Link provides a substantial advantage for installers of residential and commercial solar PV," said Ben Polito, Pika Energys CEO. "Rather than connecting power electronics on every individual module, each PV Link does the work of as many as nine module-level power electronics. The flexibility of the device lets array designers isolate shaded areas or multi-aspect rooflines, maintaining optimal performance while minimizing installation and hardware costs."
PV Link is compliant with NEC article 690.12 ("Rapid Shutdown") and works with virtually any solar PV module. Each PV Link device provides 2500W of rated power using maximum power point tracking. The device is housed in a rugged, heatsinked aluminum enclosure and uses standard MC PV leads. PV Link uses ceramic capacitors to ensure its long operational life, backed by a 25-year limited warranty.
Pika Energys products are deployed in both residential and commercial PV markets. Contact Pika Energy to learn more about the Pika Energy Island system for simplified solar-plus-storage.
About Pika Energy, Inc.
Pika Energy, Inc. is a manufacturer of direct current (DC) power electronics. Headquartered in Westbrook, Maine, Pika Energys products include bi-directional, islanding inverters, battery charge controllers, DC solar optimizers, power converters, and certified small wind turbines. All Pika Energy products are powered by the REbus™ DC nanogrid. Pika Energys products provide grid-optional clean power that enables buildings to collect, store and self-consume energy from solar PV and wind sources. Learn more at http://www.pika-energy.com.
Featured Product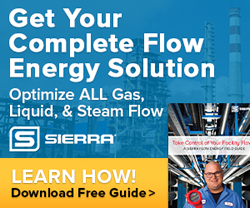 Download Flow Energy Guide - Written by Engineers For Engineers. Learn how to save on energy costs by optimizing your facility flows that impact costs like compressed air, natural gas, steam, and hot or chilled water.