by Dr Peter Harrop, Chairman, IDTechEx
Electric vehicles have gone from curiosity to being a frequent news item and, if you live in Norway or the Netherlands, something you see often. However, that is nothing compared to EVs shaking the foundations of society over the coming decade from robot agriculture and delivery to almost free travel in sunny countries and almost eliminating air pollution even in mining.

The new IDTechEx Research overview report, "Electric Vehicles Change the World 2017-2037" spells out how EVs will hugely assist the young, the old and emerging nations in particular. Packed with over 180 pages of detailed, easily understood infographics it uses facts-based forecasting. Only IDTechEx forecasts in 46 categories alongside detailed technological roadmaps based on intense travel and conference schedules executed by PhD level analysts with appropriate experience. For example, in 2016 alone, we have interviewed many staff at EV leader Toyota during visits to them in Japan and the USA and when speaking alongside them in conferences across the globe. In different continents we have travelled in the pure electric buses of EV number two BYD and interviewed their various experts. We never stop: reports are constantly updated with significant news and insights.
Here is the stuff of melodrama with the little discussed 48V mild hybrids appearing for the first time in volume in 2017 but rapidly exceeding the volume sales of the much discussed strong hybrid and pure electric vehicles combined over many future years.
Indeed, in this industry nothing is quite as it seems. Car sales will peak within 15 years for many reasons that are detailed and we identify peak internal combustion engine too but most Industrial and Commercial vehicles will see no easing of growth rate for reasons given in the report: they will power to 65% of the market - more than double that of cars. What, where, why, how - all is revealed.
IDTechEx carefully peels away the myths such as the widespread belief that plug-in pure electric vehicles are the end game. It is energy independent pure electric vehicles (EIV) running on electricity created on-board from sun wind, tide, waves and other ambient energy. That means progress towards totally different key enabling technologies and different winners and losers. IDTechEx shows that EIVs are not a dream: many new EIVs are pictured and discussed with startling implications revealed.
In the meantime attention is turning away from the declining share of cost represented by those much-reported batteries to the increasing share from little mentioned power electronics, this influencing performance far more in future. However, a major focus of this unique overview report is the vehicles themselves from personal manned multicopters to buses straddling traffic - the weird, the wonderful and the gaps in the market. This report is all about commercial success and detailed statistics to support informed action plans. Unlike some, IDTechEx is not uniformly enthusiastic about everything. Indeed certain technologies are calculated to be squeezed out to become merely niche activities. IDTechEx looks at where, when and why.
There is a detailed Executive Summary and Conclusions, Introduction and chapters on Industrial and Commercial, Cars and other applicational sectors identifying key players. Indeed, there is a league table of the top 13 in EVs land, water and air with many famous names absent and little known names in there including seven companies not in the top 13 three years ago. The companies getting the publicity are not always the ones likely to prosper or to profoundly benefit society in new ways. Lessons are drawn.
The key enabling technologies for the future are covered in the later chapters. These are changing radically with new forms of reversing motor generators, energy harvesting and electrical recuperation among those coming to the fore. Uniquely, this report takes a fresh, unbiased look at all the vehicle categories and technology options, most of which are subject to disruptive change. For those wanting to drill down into specific aspects, IDTechEx has more EV and enabling technology reports than anyone and these are referenced. Such is the new pace of change, this report contains barely a word from its predecessor one year ago: it is almost entirely researched in 2016.
For more see www.IDTechEx.com/ev.
About IDTechEx
IDTechEx provides companies with tools that can assist them in making essential strategic decisions in emerging technologies. IDTechEx offers research reports, subscriptions, consultancy, introductory services and events.
Learn more at www.IDTechEx.com and to discuss your needs please contact us on research@IDTechEx.com.
Featured Product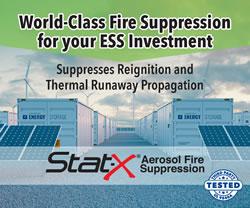 Stat-X® Condensed Aerosol Fire Suppression is a solution for energy storage systems (ESS) and battery energy storage systems (BESS) applications. This includes in-building, containerized, and in-cabinet applications. The Stat-X product was tested for efficacy in putting out Li-ion battery fires. It was found that the Stat-X agent successfully extinguished single and double cell battery fires. This testing was conducted in parallel with a large battery fire testing program. DNV GL Energy conducted the testing and validated effectiveness of the Stat-X aerosol agent on cell level Li-ion battery fires.