SMi Group are thrilled to have Maya Van der Steenhoven, Director of Public, Private Cooperation Heating and Cooling from South Holland, present at the 9th annual Energy from Waste conference when it returns to Central London on 8th and 9th December 2016.
Her address on heating projects will discuss larger scale heat networks that incorporate heat from industrial processes and greenhouses. In the run up to the event, SMi Group spoke to South Holland regarding her work and upcoming talk.

"The perspective that Maya brings to the conference is an insight on the magnitude of the transition we need to accomplish…she will show how we are not sincere about the path we have to take; using local examples as environmental laws, subsidies, and she will critically highlight the recent decision by the British government to start up exploration for fracking gas. Which is mostly an economical shame as this investment is obsolete the minute it is made."
"Maya will also talk about the alternatives we have to indeed get to an energy neutral society, she will show local governments are working together with local initiatives to stop investing in the gas infrastructure and start making different choices. How local waste heat, geothermal heat and power to heat is going to play an important role in this transition. How we are building multi commodity grids for the future and working on the launch of energy hubs."
"Maya will show the latest plans for the heat Roundabout project in the Netherlands. An innovative and one of a kind project that will save up to 6Mton CO2 in the coming years. This project builds an infrastructure to connect high amounts of waste heat to high demands for heat. The proximity of the Rotterdam Port with enormous residual waste and high heat demands by the large greenhouse areas and high dense population in big cities give the province an advantage for the use of collective heat solutions. This infrastructure will connect to local heat infrastructures using local heat solutions and heat storage. This innovative approach will show that we can combine all kinds of heat production making it more and more sustainable in the future and that we can connect to low temperature heating by diversifying in the infrastructure."
The full conversation is available to read in the event download centre at http://www.smi-online.co.uk/goto/2016energy-waste.asp#tab_downloads
A detailed programme and full speaker line-up is available online at http://www.efw-event.com
SMi's 9th annual conference:
Energy from Waste
8th - 9th December 2016
Holiday Inn Kensington Forum, London UK
---END ---
Contact Information:
For media enquiries, contact Teri Arri on +44 (0)20 7827 6162 or email tarri@smi-online.co.uk
To register visit the website at www.efw-event.com or contact Andrew Gibbons on Tel: +44 (0)20 7827 6156 / Email: agibbons@smi-online.co.uk
About SMi Group
Established since 1993, the SMi Group is a global event-production company that specializes in Business-to-Business Conferences, Workshops, Masterclasses and online Communities. We create and deliver events in the Defence, Security, Energy, Utilities, Finance and Pharmaceutical industries. We pride ourselves on having access to the world's most forward thinking opinion leaders and visionaries, allowing us to bring our communities together to Learn, Engage, Share and Network. More information can be found at http://www.smi-online.co.uk
More info on heat roundabout https://www.youtube.com/watch?v=6vslyxbjass
Featured Product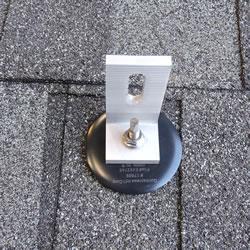 SolarRoofHook's Low Profile QuickBOLT with Microflashing™ is the industry's affordable, UL Certified Asphalt Shingle mounting system. The Microflashing™ is compressed by the collar on the bolt to create a water-tight seal. With an installation time of less than one minute, the Low Profile QuickBOLT allows installers to complete more jobs.