Energy Storage for utilities, C&I, and EV fast-charging is corporate focus
TUALATIN, Ore. - October 12, 2016 - Powin Energy (stock symbol: PWON), a leading designer and developer of safe and scalable energy storage solutions for utilities, C&I, and EV fast-charging stations, announced today that the merger between Powin Corporation and Powin Energy Corporation became effective on October 6, 2016, pursuant to a First Amended and Restated Agreement and Plan of Merger and Liquidation dated Aug 23, 2016, (the "Merger Agreement). Powin Corporation is the surviving entity with a name change to Powin Energy Corporation and will continue to be traded under the stock symbol PWON.

"Powin Energy Corporation completes this merger to become a business solely focused on supplying the technology and know-how to make our energy future a reality," said Powin Energy President Geoffrey Brown.
"Powin Energy is at the forefront of the energy storage industry, which we see as an essential part of building a cost-effective, high-efficiency, low-carbon energy economy. With this restructuring we are extremely excited about our technology, team, and project pipeline - most immediately our 8MWh project with Southern California Edison."
Powin Energy Corporation is focused on the rapidly growing advanced energy storage industry that is expected to be worth over $50 billion by 2020 according to LUX Research. Powin Energy was recently selected by Southern California Edison to build a 2 MW/8 MWh energy storage system in Irvine, California, that will be operational by the beginning of 2017. Earlier this year, Powin Energy announced that their unique Battery Pack Operating System (bp-OS) that includes the industry-exclusive Battery Odometer and Warranty Tracker™ had received a United States patent. The bp-OS is installed standard in every Powin Energy Battery Energy Storage Systems (BESS).
About Powin Energy Corporation
Powin Energy (stock symbol: PWON) is incorporated in the state of Nevada and is a leading designer and developer of safe and scalable battery energy storage solutions, based on its patented Battery Pack Operating System (bp-OS), for utility, microgrid and EV fast-charging applications. Powin Energys patented bp-OS helps extend the life of batteries by actively and reactively balancing battery functions down to the cell level. It also provides critical insight into battery system functions and lifespan via its proprietary Battery Odometer and Warranty Tracker™. For more information, visit http://PowinEnergy.com/. Investors can find Real-Time quotes and market information for the company at http://www.otcmarkets.com/stock/PWON/quote.
Forward Looking Statements
This press release contains historical information and forward-looking statements within the meaning of The Private Securities Litigation Reform Act of 1995 with respect to the business, financial condition and results of operations of Powin Corporation and Powin Energy Corporation. The words "will", "believe," "expect," "intend," "plan," "should" and similar expressions are intended to identify forward-looking statements. Such statements reflect the current views, assumptions and expectations of Powin Energy Corporation with respect to future events and are subject to risks and uncertainties. Many factors could cause the actual results, performance or achievements of Powin Energy Corporation to be materially different from any future results, performance or achievements that may be expressed or implied by such forward-looking statements, or financial information, including, among others, the failure to realize the anticipated benefits of the merger; risks entailed in integration, including employee retention and customer acceptance; the risk that the merger will divert management and other resources from the ongoing operations of the business or otherwise disrupt the conduct of the businesses, potential litigation associated with the merger, and general risks associated with the business of Powin Corporation and Powin Energy Corporation, including changes in the markets in which the businesses operate and in general economic and business conditions, loss of key customers, key customer acceptance of new battery storage technology, ability to completely fund operations to meet potential customer orders, changes in government regulation and tax policy, availability of tax credits, changes in carbon reduction requirements imposed on utilities, unpredictable sales cycles, competitive pressures, market acceptance of new products, inability to meet efficiency and cost reduction objectives, changes in business strategy and various other factors, whether referenced or not referenced in this press release. Various other risks and uncertainties may affect Powin Energy Corporation and its results of operations, as described in reports filed by the Powin Energy Corporation with the Securities and Exchange Commission from time to time, including its annual report on Form 10-K for the year ended December 31, 2015. Powin Energy Corporation does not assume any obligation to update these forward-looking statements.
###
Media Contact:
Mercom Communications www.mercomcapital.com
Wendy Prabhu media@powinenergy.com
1.512.215.4452
Featured Product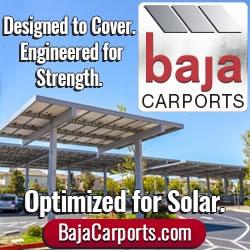 Baja Carports offers an extensive solar support system product line customized to customers' site specifications by in-house engineers, meeting their parking lot coverage, plus optimal PV production needs. Baja's Full Cantilever Tee is often paired with its Semi and Full Cantilever carports to meet live/loads up to 60psf and wind speeds to 160mph. All Baja products are pre-fabricated, bolted connections, pre-galvanized structural steel for fast on-site installation and project aesthetic requirements."